Beijing Lhasa EBC Tour - Beijing Lhasa Kathmandu Tour via Everest base camp.
Beijing Lhasa EBC tour begins from the capital city Beijing and embarks on a train journey to Lhasa, aboard the world's highest railway, the Qinghai -Tibet railway. The long and marvelous journey forwards along the high Tibetan plateau, picturesque scenes of Tibetan countryside whiz by. In the Tibet's high altitude, the train has been equipped with oxygen-supplying equipments. Oxygen masks are available for those who are needy onto altitude sickness.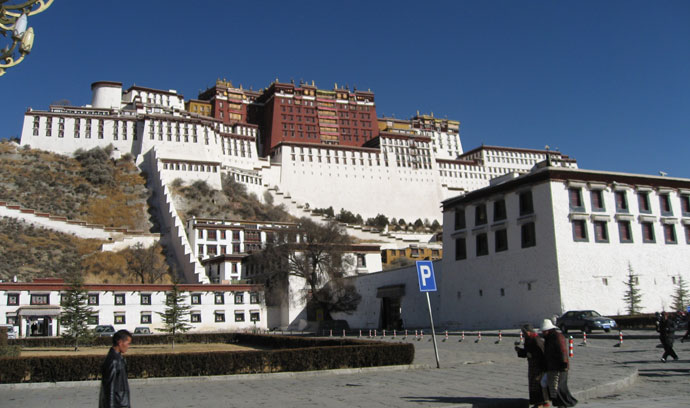 In the course of explore of the ancient palaces, monasteries and temples, a ride on the world's highest train, a journey to (almost) the top of the world, the Everest Base Camp, Beijing Lhasa EBC tour presents you an utmost experience for a lifetime. The trip leads you on a whirlwind tour to three oriental cities: Beijing, Lhasa and finally to Kathmandu. Exploration of these three cities gives you an insight into three ancient cultures, Chinese, Tibetan and Nepalese. The main highlight of Beijing Lhasa EBC tour is the journey aboard the Qinghai-Tibet railway, the world's highest railway. Further highlight of this trip is a hike to the Everest Base Camp that will be memorable.
When you will be in the old city of Lhasa, you will visit with a guided tour for all the city's major attractions: Potala Palace, Sera Monastery, and Norbulingka etc. Cultural exploration to the important Tibetan cities of Shigatse, Gyantse and Shegar are included in your journey. After reaching Rongbuk, you experience the view of the world's highest mountain Mount Everest 8848m. As you depart from Zhangmu and cross the Friendship Bridge, you enter to Nepal. There will be the refreshing change in scenery, as verdant greenery replaces the dry and arid Tibetan landscape.
Trip Fact
Trip Duration: 10 days Beijing Lhasa EBC
Mode of Tour: Arrive Lhasa & drive out until end the tour
Trip starts: Lhasa flight or Train
Trip ends: Kathmandu, Nepal
Group size: Minimum 2 & Maximum 15
Accommodation: Hotel and Guest houses stay BB Basis
Transportation: 4WD Land cruiser or mini van
High lights of trip: Exploring three medieval cities: Beijing, Lhasa, Kathmandu and a hike to stunning Everest Base Camp with an adventure overland journey having marvelous views and beautiful cultural experience of dry plateau…
Beijing Lhasa EBC tour - Outline Itinerary
Day 01: Train Journey from Beijing to Lhasa.
Day 02: Train Journey from Beijing to Lhasa.
Day 03: Arrival at Lhasa.
Day 04: Sightseeing in Lhasa.
Day 05: Sightseeing in Lhasa.
Day 06: Lhasa to Gyantse then Shigatse, 350km, 7hrs.
Day 07: Shigatse to Sakya then Lhatse, 200km, 4hrs.
Day 08: Lhatse to New Tingri then Rongbuk BC, 190km, 4hrs.
Day 09: Rongbuk to Old Tingri then Zhangmu, 265km, 7-8hrs
Day 10: Zhangmu to Kodari(Boarder) then Kathmandu, 122km, 5hrs.
Trip Cost: If you wish to make this tour as a private trip with your family, friends and colleagues then please send us an email and let us know how many members are there in your group to do this trip and the category of accommodation you want to use in Lhasa and en route, and then we quote the best price as per your requirements.
Beijing Lhasa EBC tour – Detailed itinerary
Day 01: Leave Beijing on a train experiencing world's highest train journey or flight.
Day 02: Journey by Train to Lhasa (if not flight).
Day 03: Arrival at Lhasa
Continue the journey to Lhasa seeing the beautiful Tibetan plateau with the spectacular views of Tibetan mountains. Evening around 6 pm arrive in Lhasa train station, meet your Tibetan guide and transfer to hotel in Lhasa. Overnight at hotel 
Day 04: Sightseeing in Lhasa
After breakfast, firstly you will visit to Jokhang temple which is the most scared shrine in Tibet that was built in 7th century. It is located at the heart of old town in Lhasa. The circuit around Jokhang temple is called Barkhor Street where you will be given a change to buy the real Tibetan antique items to gift your family friends and relatives. In the afternoon visit to awe-inspiring Potala Palace which is most famous cardinal landmark of Tibet and was once home to the Dalai Lama. Overnight at hotel
Day 05: Sightseeing in Lhasa
After breakfast, you will be arranged to visit Drepung, Sera monasteries and Summer Palace - Norbulingka palace. Both Drepung and Sera monasteries are Gelugpa (yellow hat) sect monastic colleges. Drepung monastery was the seat of the Government prior to Potala, it was once the world largest monastery in the history with 10,000 monks hailed from different monasteries all over Tibet. Sera monastery is famous for its Buddhism philosophical debate practice, the clapping sound and aggressive expression of the monks are well worth to see. Norbulingka is the summer palace of Dalai Lama; you can visit the residences of different lineages of the Dalai Lama. Overnight at hotel
Day 06: Lhasa to Gyantse then Shigatse, 350km, 7hrs
Leave Lhasa on a 4WD along the Friendship highway.  The scenic drive heads up to Kampala pass [4794m]. You will have a panorama of Yamdrok-tso and spectacular views of Tibetan Holy Mountain in the distance. The turquoise colored Lake Yamdrok-tso is one of the three holy lakes in Tibet. The amazing vista of pincer-shaped turquoise water of the lake and amazing spectacle of Mt. Nyenchen Khangsar glacier from Karo la pass. Further drives to Gyantse, visits the legendary stupa - Gyantse Kumbum. It is one of the most stunning architectural wonders in Tibet. Continue 90km drive to Shigatse. Overnight at hotel
Day 07: Shigatse to Sakya then Lhatse, 200km, 4hrs
After break, you will have a visit of Tashilunpo Monastery and the stunning tombs of Panchen Lamas. . This monastery is one of the largest functioning monasteries in Tibet. That was able to last through the Cultural Revolution nearly unscathed. The trip heads with the let morning drive to visit Sakya Monastery. It is the main monastery of Sakyapa sect. Houses around the monastery are also in a typical gray color. The trip hikes around the monastery northern ruins and drives back to Lhatse. Overnight at guest house.
Day 08: Lhatse to New Tingri then Everest base camp, 190km, 4hrs
The trip starts early in the morning with an adventure drive to Rongbuk base camp via Shegar. The drive crosses over Gyatsola Pass, 5200m and Gawu la pass, 5200m. From the top of the Gawu la you will see the spectacular Himalayan Ranges with glorious peaks such as Mt.Makalu 8463m, Mt.Lotse 8516m, Mt.Everst 8848m, Mt.Cho Oyu 8201m and Mt.Shishapama 8020m from Left to right, climbing down through numbers of switchback bends lead to the dry valley of Tashi Zom and then to Rongbuk base camp. Rongbuk has a big monastery which consists both monks and nuns. This monastery is also a view point to see Mt. Everest. Trek starts at afternoon from local tent guesthouses community to Everest Base Camp which is only 6km and that takes about 2 hours. As an option, you can take a local bus ride to BC instead walking. Overnight at guest house.
Day 09: Rongphu to Old Tingri then Zhangmu, 265km, 7-8hrs
Wake up early in the morning to watch the grand sunrise at Everest then have a breakfast and start driving to Zhangmu via old Tingri crossing Langlu La pass 5200m, savoring the enchanting views of the surrounding peaks of Shishapangma 8020m, Cho Oyu 8201m and etc. Reach Zhangmu and overnight at hotel.
Day 10: Zhangmu to Kodari then Kathmandu, 122km, 5hrs
After breakfast, leave hotel and drive down to Friendship bridge where your Tibetan guide will clear the custom formalities then say good bye to your guide and staffs before crossing the boarder. Then you will meet our Nepalese guide on the other side and by nearly five hours scenic drive you can reach Kathmandu. End the tour.
Services Includes
Tibet Travel Permit fee of Tibet
Guided tour as per program
All Monastery entrance fee
Hotel in Lhasa with breakfast
Best available guest houses en route with breakfast basis 
Transportation by Toyota Land cruiser 4500 or mini bus
Group visa fee for Tibet if you are travelling from Nepal to Tibet
necessary drop and pick up by private vehicle
Services Excludes 
Lunch and dinner along the trip
Flight fares and airport taxes
Emergency rescue evacuation cost
Other personal expenses tips, donation, laundry, call and bottle drinks
Photography charges
Any cost arising from Landslides, road blockage & additional transportation cost.
Nepal entry visa fee
Personal travel insurance