Shisapangma Trekking Tour Tibet | Shishapangma Trekking Tour Itinerary
Shishapangma trek will gives you the great opportunity to know highest peaks in the world. Shishapangma, situated in Tibet hiding by the Himalayan range, is a remote and most scenic trip among all in Tibet. The high altitude walk is a little easier as there are no other means to ascend up. However, the landscape and scenery along the way challenge other Himalayan Trek. As other tourists are rarely met during visit, the journey becomes more rewarding. Furthermore, the favorable weather during the day, yet rain at night, allows you to experience the unique moment during walk through lush meadows and blossoming wildflowers.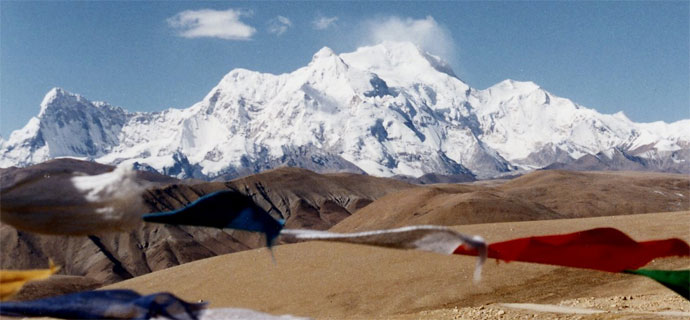 After an exciting Shishapangma trek, you will wander through Lhasa, the historical city then fly or train journey to your onward destination.
Shishapangma trek – Outline itinerary
Day 01: Drive from Kathmandu to Nyalam 3600m
Day 02: Rest day/ acclimatization
Day 03: Trek to Draabochhan 4110m
Day 04: Trek to Shingdip 4560m
Day 05: Trek to base camp 4980m
Day 06: Trek to Draabochhan
Day 07: Trek to Nyalam
Day 08: Drive to Lhatse
Day 09: Drive to Shigatse
Day 10: Drive to Gyantse
Day 11: Drive to Lhasa
Day 12: Sightseeing In Lhasa
Day 13: Sightseeing In Lhasa
Day 14: Fly back to Kathmandu
Trip Cost: You can make this tour as a private trip with your family, friends and colleagues so please send us an email and let us know how many members are there in your group to do this trip and the category of accommodation you want to use in Lhasa and en route, and then we quote the best price as per your requirements.
Shishapangma trek – Detailed Itinerary
Day 01: Drive from Kathmandu to Nyalam
Your adventure trip starts here by driving through gorgeous Nepalese countryside for nearly 123 km to reach Kodari. After complete visa procedures and border formalities you will move along the way to Nyalam. On the way, you will encounter numerous passes and valleys using a system of steep switchbacks and also through a mossy gully containing marvelous cascading waterfalls. Overnight at guest house
Day 02: Rest day at Nyalam
The 2nd day will be spent by relaxing, properly acclimatizing to high altitude and capturing the beauty of Nyalam. It is important that you take it easy today so that you can have some excitement to the day you visit Nyalam Pelgye Ling, a small temple close to the town.
Day 03: Trek to Draabochhan 4150m
Today you will commence your challenging trekking as you head out of town along the Tshongde Phu river valley. It is completely up to you whether you take a shorter day and head straight to your campsite at Draabochhan or enjoy the pilgrimage trek to Tara Tsho Lake. If you ascend up the steep path, along the way, the calm lake is well worth it. Legend says that the lake was formed by melting of the single large piece of ice that a lama carried from Mt. Kailash. The lake is furnished by the beautiful prayer flags and stone monuments at its bank. You will spend the night in a cozy campsite at Draabochhan. Overnight in tents
Day 04: Trek to Shingdip 4560m
The second day of trekking will take you to the top of the ridge. The enticing views and blossoming rhododendrons encircle us providing the sense of paradise. We will spend our night in an amazing meadow camp in Shingdip.
Day 05: Trek to Base Camp 5050m
Today, you will move towards west as you follow the ridge once more. The Jugal Himal peak can be viewed as you walk. After only two hours of walking, you will reach the base camp. But exciting views of Shishapangma cannot be obtained at the actual base camp. However, you can utilize your plenty of time to visit the glacial lakes and boulder plateaus which would certainly leave good impression to your visit. After walking short distance you can reach advanced base camp. Overnight in tents.
Day 06: Trek to Draabochhan 4200m
After spending memorable day at the base camp, you will return to Draabochhan again. Along the way, green alpine meadows, blooming rhododendrons, and tempting views of Jugal Himal will accompany you.
Day 07: Trek to Nyalam 3600m
Today, you will follow your route back through the Tshongde Phu river valley and certainly it will be the amazing day of trekking. You will spend your night back in Nyalam. Overnight at guesthouse
Day 08: Drive to Lhatse
On the 8th day of your exciting trip, you will start driving and sightseeing the vast difference in the lush lower hills and the barren Tibetan Plateau. Throughout the day, you will be able to encounter several high passes, including Lalung La. From these passes, charming widespread views of Mt. Everest and the entire Himalayan range can be enjoyed. Overnight at guest house
Day 09: Day drive to Shigatse
Today, you will cross Gyatsmo La, the highest pass of your journey which further makes your visit more exciting. On the way, a string of quiet monasteries and herders can also be observed. Overnight at hotel in the second largest city in Tibet
 Day 10: Drive to Gyantse
Today, you only need to drive little and so the morning will be spent in catching glimpse of the Tashilhunpo Monastery, one of the largest functioning monasteries left in Tibet which is infact our first true experience of Tibetan culture. Your final destination is the small city of Gyantse where you can experience the wondrous Tibetan culture as you see the Gyantse Dzong and Kumbum. The wide views of the valley can be seen from the ancient Dzong fort. Even if you are no art connoisseur you will be amazed by the ancient murals and architecture existing in Kumbum which infact seems more than stupa as it is surrounded by numerous Tibetan murals and small chapel houses.
Day 11: Drive to Lhasa
The main exciting site of today is the Karo La pass. At this pass, a towering glacier rises nearly straight up from the road. Furthermore, the eye-catching scene can be viewed today as you drive through several small towns and even Yamdrok-tso, an amazing turquoise lake. The day will terminate in Lhasa at a comfortable hotel.
Day 12: Sightseeing in Lhasa
In the morning, you will visit to Jokhang Temple, the most revered shrine in all of Tibet and is constantly bustling with devoted worshippers. You will do shopping in Barkor, the crowded central market of Lhasa. In the afternoon you will visit Sera Monastery, a fifteenth century sprawl of golden roofs and whitewashed walls. It is well preserved monastery and is located just a few miles North of Lhasa and is dwelling place to several hundred monks. Overnight at hotel
Day 13: Sightseeing in Lhasa
In order to explore some of the ancient quarters of the Dalai Lama you will visit Potala Palace which will certainly be astonishment as this grand palace has been regarded to exist before the 17th century. To further acknowledge the history and culture, you will also visit Drepung Monastery which was once home to over 10,000 monks. The Drepung Monastery is still a beautiful sight to see and amazingly it was one of the few sights to escape the Cultural Revolution without widespread damage. Overnight at hotel
 Day 14: Fly from Lhasa to Kathmandu
You will experience the charming sight of the Himalayas for one last time as you fly back to Katmandu.

Service includes
Tibet Travel permits
All Monastery entrance fee
Standard hotel in Lhasa with breakfast while in cities
Meals 3 times a day in trekking
Accommodation in two men tent and porters during the trekking period
Transportation by Toyota Land cruiser 4500 and supporting truck in case need
Group visa fee for Tibet
Oxygen incase needed
Service does not includes
Lunch and dinner except trekking period
Flight ticket (Kathmandu-Lhasa or Lhasa- Kathmandu) and airport taxes
Emergency rescue evacuation cost
Other personal expenses tips, donation, laundry, call and bottle drinks
Photography charges
Any cost arising from Landslides, road blockage hiring extra porters & additional transportation cost.
Nepal re-entry visa fee
Personal travel insurance