Everest Advance Base Camp Trek in Tibet - Everest Advance Base Camp Trek
Many of you have dreamed of reaching Mt. Everest and gazing up at the world's highest summit towering above you. You are now being given an opportunity to live your dream and truly explore the glory of Mt. Everest.
Everest Advance Base Camp Trek Tibet offers distinct views of Everest can be candidly seen from the base camps. The trip will hike to one of the highest points on earth without the aid of crampons, ice picks, and all the technical equipment.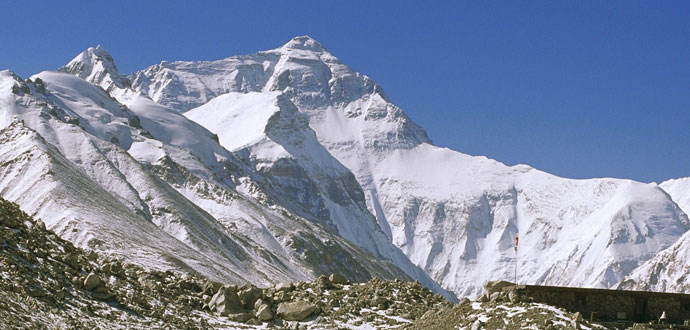 Everest advance base camp trek Tibet will starts with some breathtaking scenery in the ancient town of Lhasa. Lhasa, the capital city of Tibet is considered as the heart of Tibet and is filled with distinct history, culture, and tradition. The legendary Potala Palace dominates the skyline with its powerful and ancient architecture. The uncountable number of monasteries and temples of the city such as the great Jokhang Temple and Drepung allow the visitors to experience the real Tibetan Buddhism. The trip to these ancient monasteries and temples will offer you with a sense of wonder for years to come!
On the way to Everest you will also experience Buddhist culture in the awe-inspiring towns of Shigatse and Gyantse. This would be absolutely an amazing trip you ever have!
Everest Advance Base Camp trek Tibet - Outline Itinerary
Day 01: Fly Kathmandu 1400m - Lhasa 3680m
Day 02:  Sightseeing in Lhasa
Day 03: Sightseeing in Lhasa
Day 04: Free day in Lhasa
Day 05: Drive Lhasa – Gyantse - 3950m, 261 km
Day 06: Sightseeing & drive to Gyantse – Shigatse - 3900m, 90km
Day 07: Sightseeing & drive to Shigatse – Shegar (New Tingri) - 4050m, 244km
Day 08: Drive Shegar – Rongbuk - 5000m, 68km
Day 09: Rest day at Base Camp
Day 10: Rest day at Base Camp
Day 11: Trek from Everest Base Camp to Camp one - 5460m
Day 12: Trek to interim camp - 5760m
Day 13: Rest day at interim camp
Day 14: Trek to Camp two - 5970m
Day 15: Trek to Camp three - 6340m and return to Camp two
Day 16: Return to Base Camp
Day 17: Drive Base Camp – Nyalam - 215km
Day 18: Drive Nyalam – Kathmandu - 1400m, 153km
Trip Cost: You can make this tour as a private trip with your family, friends and colleagues so please send us an email and let us know how many members are there in your group to do this trip and the category of accommodation you want to use in Lhasa and en route, and then we quote the best price as per your requirements.
Note: If you wish to join this trip in Kathmandu you have to arrive 2 days prior to trip departure dates (But you need to provide us copy of your passport at least 25 days before the trip departure). Or if you wish to start in Lhasa, you can arrive Lhasa on the date mentioned above or earlier
Everest Adventure Base Camp Tibet - Detailed Itinerary:
Day 01: Fly Kathmandu to Lhasa
Upon arrive at Gonggar airport, an easy two hour scenic drive to Lhasa. The rest of the day can be enjoyed relaxing. Overnight at hotel
Day 02: Sightseeing in Lhasa
After breakfast at hotel, you will start the sightseeing tour to different ancient monuments of city with our experienced English speaking Tibetan guide. At the beginning, you will visit the beautiful Sera Monastery then the afternoon will be enjoyed in visiting the Jokhang temple and Norbulingka palace. Overnight at hotel
Day 03: Sightseeing in Lhasa
Breakfast at hotel; first of all, visit the splendid Potala Palace which is regarded to have existence before 17th century. To further enjoy the trip you will also visit Drepung
Monastery of historical and cultural significances .Once home to over 10,000 monks, the Drepung Monastery is still the hypnotic sight to enjoy. Overnight at hotel
Day 04: Rest day in Lhasa
Today is a day for you to rest and properly acclimatize for further visiting Lhasa. You can leisurely walk around Lhasa to exploring more monasteries or temples. Overnight at hotel. 
Day 05: Drive Lhasa to Gyantse
After breakfast at hotel, leave Lhasa and get through Land cruisers along the Friendship highway. Numerous passes, such as Khambo La and Kharo La, are the tempting views of the Himalayan range. Reach Gyantse and overnight at hotel
Day 06: Drive from Gyantse to Shigatse
In Gyantse, you will get chance of learning about more interesting Tibetan culture as you see the Gyantse Dzong and Kumbum Chorten. Grand view of the valley can be seen from the ancient Dzong fort. In the afternoon, the scenic 90 kilometers drive to Shigatse which is the 2nd largest city in Tibet facilitates you to explore the legendry monasteries and local markets without waste of time. Overnight at hotel
Day 07: Drive from Shigatse to Shegar (New Tingri)
After breakfast at hotel, visit the huge Tashi Limphu Monastery then drive along the Friendship Highway; enjoy yourself with the wondrous views of the Tibetan plateau. En route, you will encounter the highest pass of the trip, Gyamtso La, as well as numerous nomadic herders. Overnight at guest house.
Day 08: Drive Shegar to Rongbuk
Morning breakfast and leave Shegar crossing the Pang La pass. From the top, entire breathtaking view of the Himalayas can be caught at once easily. This may be your first real glimpse of Everest. Overnight at guest house
Day 09: Rongbuk Everest Base Camp
Today you will spend the time enjoying the barren yet awe-inspiring surroundings of the Everest Base Camp. It will be the memorable experience to stare up into the world's highest peak and gradually you will acclimatize.
Day 10: Rest day at Rongbuk Everest Base camp
In order to have safe trip, another day must be spent for properly acclimatizing in Rongbuk. You can rest during the day and explore the area even further if you want.
Day 11: Trek from Everest Base Camp to Camp one
The first adventurous trek will be made to Base Camp one. Along the way you can glance at the Rongbuk Glacier and surrounding areas which are not less charming areas than any other wonders of the world. You will take a trail that rises to the east side of this ice cap and heads toward the peak of Mt. Everest. Although the hike is fairly short, due to the high altitude, you may still feel hard during trip. So, you may relax today and enjoy exploring this amazing area. Overnight in tents
Day 12: Trek to Interim Camp
Today your trekking trip will lead you over gravel hills to the west of the glacier. Another scenic day awaits you as you spend the night at the interim camp. Frozen environment that surround you in all directions will surely grant you the amazing experience. Overnight in tents
Day 13: Rest day in Interim Camp
Today is also the day to rest and properly acclimatize as you are now at extremely high altitudes, and must take all necessary safety precautions to avoid hard moments. However, small excursions and wonderful picture capturing can be enjoyed today.
Day 14: Trek to Camp two
Today you will ascend up towards the Changste glacier encountering the intricate maze of frozen ice. It is certainly an incredible experience to be hiking on the world's highest mountain! Today your camp is even more wonderful and charming than past sites. You are surrounded on all sides by varying glaciers and hanging ice. Overnight in tents
Day 15: Trek to ABC and return to camp two
Today you can decide whether to stay night at Base camp 3 or simply descend during day and return to Base Camp 2. The walk will be much more enjoyable tomorrow if you stay at the second base camp. However, if you wish you can spend the night at an even higher altitude and impressive location. Camp 3 which lies in the center of flattened gravel mounds next to the glacier only 2400 meters from the top. Today you can observe many of the challenging pinnacles, ridges, and even the rock summit of Everest from the site which is very near from the highest point in the world. Overnight in tents
Day 16: Return To Base Camp
Today you descend down back towards the first base camp capturing the wonderful sights as you leave this amazing peak. Overnight at guest house
Day 17: Drive from Rongbuk to Nyalam
Today is your second to last day and you will retrace back the Friendship Highway and experience another memorable drive through high plateau. Once again you will cross two high passes with magnificent Himalayan view. Towards evening, you will descend from the Tibetan plateau and reach Nyalam. Further, it would be the huge relief if one arrives back in this lush town with showers and beds. Overnight at guest house
Day 18: Drive from Nyalam to Kathmandu
Today is the end of your trip. As the day breaks, you we will cross the Friendship Bridge and return Nepal. You will express your fond farewell and thanksgiving to your Tibetan crew and go through all the necessary border paperwork. Then you will meet our Nepalese guide on the other side and by nearly five hours scenic drive you can reach Kathmandu.
Service includes
Tibet Travel permits
All Monastery entrance fee
Standard hotel in Lhasa with breakfast while in cities
Meals 3 times a day in trekking
Accommodation in two men tent and porters during the trekking period
Transportation by Toyota Land cruiser 4500 and supporting truck in case need
Group visa fee for Tibet
Oxygen incase needed
Service does not includes
Lunch and dinner except trekking period
Flight ticket (Kathmandu-Lhasa or Lhasa- Kathmandu) and airport taxes
Emergency rescue evacuation cost
Other personal expenses tips, donation, laundry, call and bottle drinks
Photography charges
Any cost arising from Landslides, road blockage hiring extra porters & additional transportation cost.
Nepal re-entry visa fee
Personal travel insurance