Tibet Everest Base Camp Tour 2017/2018 Dates & Cost - Lhasa Tour Operator in Tibet
Tibet Everest Base camp tour is an epic adventure tour of a lifetime to the North Everest base camp in Tibet. The world's highest Mount Everest base camp tour starts either in Kathmandu, the historic capital town of Nepal or from Lhasa, the capital of Tibet. Mt Everest Base Camp Tour is a very comprehensive overland tour in Tibet that visits the cultural, historical and natural attractions of Tibet like Potala Palace in Lhasa, Pelkor Choede in Gyantse and Tashilhumpo monastery in Xigatse..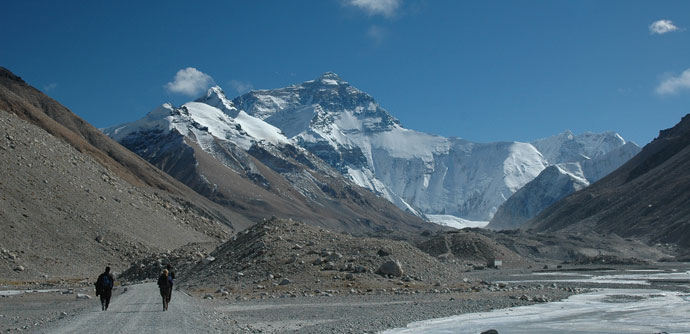 The north Everest Base Camp in Tibet nearly 600km from the historic Lhasa city has set the most beautiful and extreme landscapes in the world. There is no better place to view Mt Everest than Tibet Everest Base Camp. The sweeping views of Everest and its massif from Rongbuk monastery with nomad tents make Mt Everest base camp tour more amazing and colourful.
The most amazing Everest overland tour in Tibet begins with a spectacular drive or flight from Kathmandu to Lhasa. The tour can be join in Lhasa if you are coming from mainland China by train journey or flight. The first 3 days of Everest Base Camp Tour explores the important heritage site's sightseeing in Lhasa, including Potala Palace, Jokhang Temple, Drepung and Sera Monastery with Barkhor street. It is also helpful to acclimatize your body before driving to Tibet Everest Base Camp on a 4WD drive either in Toyota Land Cruisers or in bus or van along the amazing Friendship Highway to Kathmandu. The adventure Tibet Everest Camp Tour crosses the dramatic high passes with magnificent view of the Tibetan Himalayas and Lakes, visit the legendary monasteries and the breathtaking landscapes.
We, a local Tibet tour operator based in Lhasa offers Tibet Everest Base Camp tour for private and group tour at the minimal budget cost. Each of our Everest Base Camp tour in Tibet escorted by licensed English speaking Tibetan guide and driver. April to June and September to December is the best time of the year for touring to Everest Base Camp from Tibet side at it is cold in the winter. July and August, though it is a high toursim season in Tibet, are not good to view Mt. Everest as it is a rainy season in Tibet because the mountain is shrouded in the cloud and mist.
Trip Fact
Trip Duration: 10 days Everest Base Camp
Mode of Tour: Fly in and drive out
Trip starts: Lhasa fly in
Trip ends: Kathmandu- Tibet boarder
Group size: Minimum 2 & Maximum 15
Accommodation: Hotel and Guest houses stay BB Basis
Transportation: 4WD Land cruiser
Highlights of trip: Exploring stunning Potala palace, visit to Everest base camp, guided sightseeing to explore main attraction of around and adventure overland journey with marvelous views and beautiful cultural experience of dry plateau…
Tibet Everest base camp tour – outline itinerary
Day 01: Fly or train into Lhasa - 3650m.
Day 02: Sightseeing in Lhasa.
Day 03: Sightseeing in Lhasa.
Day 04: Drive from Lhasa to Gyantse - 3950m, 261 km
Day 05: Sightseeing and drive Gyantse to Shigatse - 3900m, 90km
Day 06: Sightseeing and drive Shigatse to Shegar - 4050m, 244km
Day 07: Drive from Shegar to Rongbuk 5100m, 68km
Day 08: Explore EBC then drive Rongbuk to Tingri - 4390m, 65km
Day 09: Drive from Tingri to Zhangmu - 2300m, 181km
Day 10: Drive from Zhangmu to Kodari then to Kathmandu- 1400m, 123km
Trip Cost: If you wish to make this tour as a private trip with your family, friends and colleagues then please send us an email and let us know how many members are there in your group to do this trip and the category of accommodation you want to use in Lhasa and en route, and then we quote the best price as per your requirements.
Note: And/or if you wish to join this trip in Kathmandu you have to arrive 2 days prior to trip departure dates (But you need to provide us copy of your passport at least 25 days before the trip departure). Or if you wish to start in Lhasa, you can arrive Lhasa on the date mentioned above or earlier.
Tibet Everest Base Camp Tour – Detailed Itinerary:
Day 01: Arrival in Lhasa by Air or Train
The spectacular one hour flight from Kathmandu or a train journey from mainland China to at Gonggar airport or Lhasa Train Station; meet your Tibetan guide and an easy one hour or half hour drive to Lhasa – capital city of Tibet. The remainder of the day can be spent relaxing and acclimatizing. Overnight at hotel
Day 02: Sightseeing in Lhasa
After breakfast at hotel, today you will take an easy visit to Jokhang Temple which is the most revered shrine in all of Tibet. This Temple is constantly bustling with devout worshippers. Meanwhile, you will have some time to shopping around Barkor, one of the busiest central markets of Lhasa. In the afternoon, you will drive to visit Sera Monastery, fifteenth century sprawl of golden roofs and whitewashed walls. The well preserved monastery is situated just a few kilometers North of Lhasa. It is abode to several hundred monks. Overnight at hotel
Day 03: Sightseeing in Lhasa
Your Journey to Tibet would not be perfect unless you visit to Potala Palace so that after break at hotel our guide will take you to this stunning palace which is Lhasa's cardinal landmark and is a wonder of Eastern architecture. Your first glimpse of this giant structure will be a miraculous moment remembered for years to come. This Palace has been a palace since the fifth or sixth century and was once home to the Dalai Lama. This truly amazing day will be ended with a visit to the Drepung Monastery. Once the world's largest monastery, home to more ten thousand monks, it lies hidden in rocky ridges just beyond the city. Surprisingly much of the building was left untouched throughout so many hundreds of years. Overnight at hotel
Day 04: Drive from Lhasa to Gyantse 3950m, 265km
After breakfast at hotel, leave Lhasa and journey on a four wheel along the friendship highway. While driving cross the several high passes such as Khambo La and Kharo La, which will provide breathtaking views of the Himalayan range. An enormous glacier rises nearly straight up from the road as the trip passes Kharo La. The drive is absolutely exciting since you pass through many more beautiful Tibetan valleys and quiet villages along the way. Reach Gyantse and overnight at hotel.
Day 05: Drive from Gyantse to Shigatse 3900m, 90 km
Morning breakfast then short visit to Gyantse Dzong. This fort is of the 14th century and offers some of the most wonderful views of Gyantse and the surrounding valley. You will visit the famed and splendid tiered structure Gyantse Kumbum as well which is the largest stupa in all of Tibet.  
Today you will have very short drive which takes only 90km that leads you to the second largest town in all of Tibet. When you arrive in Shigatse you will explore the local market and guide will take you to visit Tashilhumpo Monastery. This monastery is one of the largest functioning monasteries in Tibet. That was able to last through the Cultural Revolution nearly unscathed. Overnight at hotel
Day 06: Drive from Shigatse to Shegar 4050m, 244km
After breakfast, you will leave Shigatse and drive along the Friendship Highway enjoying the breathtaking views of this desert plateau. After passing through the small town of Lhatse the journey crosses Gyatmso La which is the highest pass on your trip. The land quickly descends to plains after Gyatmso La. While driving through the plains you will see many nomadic herders, beautiful countryside, and secluded monasteries. Overnight at guest house.
Day 07: Drive from Shegar to Rongbuk 5100m, 68 km
Breakfast at guest house, you will leave Shegar; you will drive only a short while before turning off the Friendship Highway. Your four wheel drive vehicles take you South towards the main Himalayan range while passing over Pang La. The view from the top of Pang La is a truly amazing. You are able to see all the way from Makalu to Shishapangma range. In the afternoon you descend into the Rongbuk valley and Everest will jump quickly into view. It will be your first chance to catch a glimpse of this truly stunning mountain. Overnight at basic guest house.
Day 08: Drive from Rongbuk to Tingri 4390m, 65km
Today is the special day of your entire trip. In the morning you will be heading to Everest Base Camp by taking a local bus to cover the 8 km distance to reach Base Camp. The views of north face from so close which makes the mountain seem even more impressive than before. It is a truly stunning experience to stare up at the sheer North face of this highest mountain on the Planet. Mount Everest towers above you in a looming yet with magical way. In the afternoon you will get back on the Friendship highway and continue your incredible drive. Overnight at guest house
Day 09: Drive from Tingri to Zhangmu 2300m, 181km
After breakfast the drive continues along the friendship Highway. Soon after you leave Tingri you will cross the stunning two high passes such as Lalung La and the Shung La. The views from these passes are marvelous once again and you are surrounded by grandiose mountains such as Shishpangma, Cho Oyu, Gauri Shankar, and many more.
After lunch you will descend from the arid Tibetan plateau to a small town of Zhangmu. Zhangmu is the border town of Tibet and much lower in elevation so that it is much more lush and green than what you have experienced so far. Overnight at hotel .
Day 10: Drive from Zhangmu to Kodari and Kathmandu 1400m, 123km
After breakfast at hotel you will leave Zhangmu and head to the Nepalese Border. The Friendship Bridge situated at the Border of Tibet and Nepal and is only a few kilometers from Zhangmu.  You will express your fond farewell and thanksgiving to your Tibetan crew and go through all the necessary border paperwork. Then you will meet our Nepalese guide on the other side and by nearly five hours scenic drive you can reach Kathmandu.
Services Includes
Tibet Travel Permit fee of Tibet
Guided tour as per program
All Monastery entrance fee
Hotel in Lhasa with breakfast
Best available guest houses en route with breakfast basis 
Transportation by Toyota Land cruiser 4500 or mini bus
Group visa fee for Tibet
Necessary drop and pick up by private vehicle
Services Excludes 
Lunch and dinner along the trip
Flight ticket (Kathmandu- Lhasa) and airport taxes
Emergency rescue evacuation cost
Other personal expenses tips, donation, laundry, call and bottle drinks
Photography charges
Any cost arising from Landslides, road blockage & additional transportation cost.
Nepal re-entry visa fee
Personal travel insurance