Kathmandu Lhasa group tour | Kathmandu to Lhasa overland tour in Tibet
Kathmandu Lhasa group tour by comfortable mini bus or jeep is one of the most popular and famous tours with us which leaves every Tuesday and Saturday from Kathmandu. For Kathmandu Lhasa group tour, all travelers need to arrive in Kathmandu at least two days before the trip departure. We will handle all visa and travel permits of your trip as it requires Group Visa.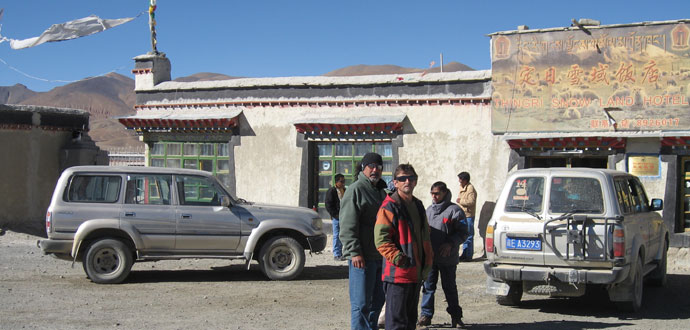 The Kathmandu Lhasa group tour is one of the most affordable trips as well that begins in Kathmandu and ends in Lhasa driving along the Friendship Highway through some of the most stunning landscapes on the Planet. Your journey will pass small Tibetan settlements, nomadic herdsmen wandering across the wide arid plains and awe-inspiring mountain peaks. Similarly it is a fascinating of the wealth of cultural interest and you will have plenty of opportunity to discover this side of Tibet, both in Lhasa and the other towns including Shigantse where you pass through on your journey from Kathmandu.
Kathmandu Lhasa group tour spends four nights en route in different cities or small towns with three night comfortable stay in Lhasa. Stunning landscapes and mountain views combined with its rich Buddhist history and culture, make visiting Tibet a truly unforgettable experience.
Trip Fact
Trip Duration: 08 days overland tour
Mode of Tour: Drive in by bus and fly back
Trip starts: Katmandu/Kodari
Trip ends: Kathmandu/ Lhasa
Group size: Minimum 1 & Maximum 25
Accommodation: Hotel and Guest houses stay BB Basis
Transportation: Mini buses
Highlights of trip: Exploring stunning landscapes, visiting Potala Palace, guided sightseeing to explore main attraction of around and adventure overland journey with marvelous views and beautiful cultural experience of dry plateau…
Kathmandu Lhasa group tour – Outline itinerary
Day 01: Drive Kathmandu to Nyalam 3600m, 133km
Day 02: Drive Nyalam to Tingri 4050m 230km
Day 03: Drive Tingri to Shigatse 3900m, 235km
Day 04: Drive Shigatse to Gyantse 3950m, 90km
Day 05: Drive Gyantse to Lhasa 3650m, 261 km
Day 06: Sightseeing in Lhasa
Day 07: Sightseeing in Lhasa
Day 08: Fly back Lhasa to Kathmandu or Train journey
Tour Cost on group joining basis;
US$ 1250 Per Person
Visa:
US$ 85 for other nationalities,
US$ 175 for Americans
The visa fees are subject to change as Chinese Embassy Regulation.
Air fare:
Lhasa - Kathmandu - US$ 450 including all taxes
Kathmandu - Lhasa - US$ 430 including all taxes
The air fares are subject to change as Air China regulation.
Train fare:
Cost and schedule please contact us
Above tour cost includes:
Twin sharing hotel accommodation in Lhasa, Best available guest house / hotel en route on BB (Bed and breakfast) basis, All necessary transportation from Kathmandu to Lhasa, Sightseeing tour as per the program, An English speaking guide, All Tibet travel permits and Monastery entrance fee.
Above tour cost not includes:
All expenses of personal nature, Nepal re-entry visa fee, Insurance, In case of landslides extra charge for porters and transportation, Airfare of Lhasa to Kathmandu, Tibet visa fee and Emergency evacuation.
Note: Kathmandu Lhasa group tour is also possible to take as the private tour. If you are interested in small group or private tour with your family or friends then let us know so that we can provide you a guide and a jeep to make your trip more personalized and adventurous. For cost details, Inquiry now!
Kathmandu Lhasa group tour – Detailed itinerary
Day 01: Drive Kathmandu to Nyalam 3600m, 133km
The trip commences from Thamel around 6 AM, driving along the Arniko Highway enjoying the beautiful Nepalese countryside to Kodari on the Nepal Tibet border. After completing the necessary border formalities at the both the Nepalese and Tibetan sides you will change your vehicle and start the two hours adventurous uphill drive to Nyalam. Overnight at guest house
Day 02: Drive Nyalam to Tingri 4350m 244km
After breakfast at guesthouse the exciting day starts with an adventure drive through lush, green lower hills into the dry, arid landscape of the Tibetan Plateau. The drive crosses several high passes including the Lalung La 5050m from where you can have a breathtaking panorama of the Himalayan range including Mt Everest - a fitting backdrop to the vastness of the Tibetan Plateau. Overnight at guest house
Day 03: Drive Tingri to Shigatse 3900m, 245km
After breakfast you will continue your adventure drive passing by lonely monasteries and the camps of Nomadic herders. The drive crosses the highest pass of your journey, the Gyamtso La 5220m before descending once more to the barren splendor of the plains. Overnight at hotel in Shigatse – the second largest city of Tibet
Day 04: Drive Shigatse to Gyantse 3950m, 90 km
Today will have a great chance to visit stunning Tashilungpo Monastery, one of the largest functioning monasteries in Tibet, just before short and scenic drive to Gyantse - another historical city in Tibet. In Gyantse, you will visit the Pelkor Chode Monastery and the Gyantse Kumbum. Kumbum is a large gold-domed stupa. It is famous for its many chapels house an impressive array of Tibetan Buddhist murals. Overnight at hotel
Day 05: Drive Gyantse to Lhasa 3680m, 265km
After breakfast, start a long drive crossing the Karo La pass 5045m, from where your are treated to the awesome sight of a huge glacier tumbling down to within a few hundred meters of the road. The road follows the bank of a beautiful turquoise lake; the Yamdrok-tso, for about 20 Km. The trip crosses the Khamba La 4794m, and continues on to Lhasa the capital of Tibet. Overnight at hotel
Day 06: Sightseeing In Lhasa
After breakfast in the morning, you will have an easy visit to Jokhang temple. This temple is the most revered shrine in all of Tibet and is constantly bustling with devout worshippers. After lunch in the afternoon, you will visit Sera Monastery, a fifteenth century sprawl of golden roofs and whitewashed walls. The well preserved monastery is located just a few miles North of Lhasa and is home to several hundred monks. Overnight at hotel.
Day 07: Sightseeing in Lhasa
After breakfast, group will be led by Tibetan guide to visit the vital Potala Palace. The palace is Lhasa's cardinal landmark and is a wonder of Eastern architecture. Your first site of this massive structure will be a magical moment remembered for years to come. It has been a palace since the fifth or sixth century and was once home to the Dalai Lama. In the afternoon you will visit to the Drepung Monastery. Once the world's largest monastery, home to 10,000 monks, Drepung monastery situated hidden in rocky ridges just beyond the city. Overnight at hotel in Lhasa
Day 08: Fly Lhasa to Kathmandu (1300m)
Leave Lhasa early in the morning for the 2 hour drive to Gonggar Airport and flight back to Kathmandu or onward destination. End the trip.