Lhasa Tesdang Ganden Everest Tour Tibet - Ganden Samye EBC Tour in Tibet
It is obvious that Tibet's historical, adventurous and spiritual highlands have long captured the hearts and minds of the travel enthusiasts around the world. Tibet is the origin of Mahayana Buddhism, home of the Dalai Lama and the target of devout pilgrimages as well as adventurers. Lhasa Tesdang Ganden & Everest tour covers a vast tract that crosses spectacular passes, through unforgettable landscapes and spiritual heart of the country. Inspiring landscapes and mountain views combined with its rich Buddhist history and culture, and contrasting with the recent development make visiting Tibet a truly unforgettable experience. From Lhasa's streets, to medieval towns of Tibet to ancient monasteries including world's highest monastery- the Rongbuk Monastery, and to the Everest Base Camp with the sheer grandeur of Everest's north face – we have combined everything that you are wishing to squeeze out in your two weeks Lhasa Tesdang Ganden & Everest tour.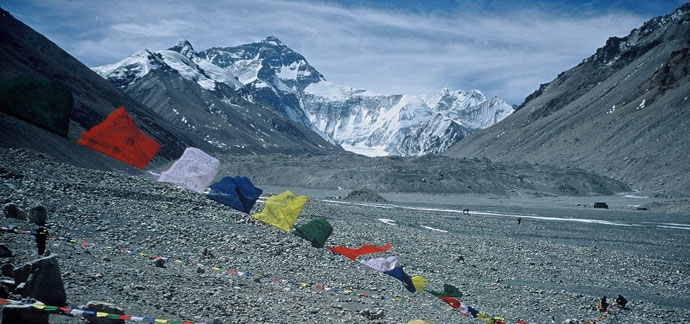 Our Lhasa Tesdang Ganden & Everest tour includes Lhasa's historical landmarks - a booming city at such an altitude, functioning as the religious, cultural and economic hub of Tibet, as well as other renowned places such as Tsedang, Ganden, Namtso Lake, Sakya and Everest Base Camp. In Lhasa the trip follows most holy Jokhang temple, sees the renowned eighth-wonder Potala Palace, Norbulinka Palace (the summer palace of the Dalai Lama), Drepung, Sera Monastery and many more. After sightseeing in Lhasa and around area you will visit other famous monasteries such as Gandan Monastery via Drayerpa Cave, Reting Monastery. Lhasa Tesdang Ganden & Everest tour also makes a detour of one of world's highest lakes - the Namutso Lake. Then you will drive towards Everest Base Camp with stops in Gyantse, Xigatse and Sakya along the friendship highway then to Rongbuk on an off road. Rongbuk is the home of the highest monastery in Tibet that left plenty of time to explore this historic treasure.
Trip Fact
Trip Duration: 14 days Lhasa Tesdang Ganden & Everest tour
Mode of Tour: Fly in and drive out
Trip starts: Lhasa fly in
Trip ends: Kathmandu- Tibet boarder
Group size: Minimum 2 & Maximum 15
Accommodation: Hotel and Guest houses stay BB Basis
Transportation: 4WD Land cruiser or Mini Van
High lights of trip: Exploring stunning Tesdang, Ganden and Namtso Lake, visiting Potala Palace, guided sightseeing to explore main attraction of around and adventure overland journey to Everest base camp with marvelous views and beautiful cultural experience of dry plateau…
Lhasa Tesdang Ganden & Everest tour – Outline itinerary
Day 01: Arrive in Gonggor airport then Tsedang: 95km
Day 02: Tsedang to Samye Monastery: 130km
Day 03: Samye to Lhasa: 90km
Day 04: Sightseeing in Lhasa
Day 05: Sightseeing in Lhasa
Day 06: Lhasa to Ganden Monastery
Day 07: Ganden Monastery to Reting Monastery: 180km
Day 08: Reting Monastery to Namutso Lake: 160km
Day 09: Namutso Lake to Lhasa: 220km
Day 10: Lhasa to Gyantse: 265km
Day 11: Gyantse to Shigatse: 90km
Day 12: Shigatse to Rongbuk: 360km
Day 13: Rongbuk to Zhangmu: 245km
Day 14: Zhangmu to Kathmandu: 123km
Trip Cost: If you wish to make this tour as a private trip with your family, friends and colleagues then please send us an email and let us know how many members are there in your group to do this trip and the category of accommodation you want to use in Lhasa and en route, and then we quote the best price as per your requirements.
Note: And/or if you wish to join this trip in Kathmandu you have to arrive 2 days prior to trip departure dates (But you need to provide us copy of your passport at least 25 days before the trip departure). Or if you wish to start in Lhasa, you can arrive Lhasa on the date mentioned above or earlier.
Lhasa Tesdang Ganden & Everest tour - Detailed Itinerary
Day 01:  Arrive at Gonggar airport (3650 m), transfer to Tsedang:  95 Km
You can have two options to arrive at Gonggar airport either from Kathmandu, Nepal or from the mainland China. If you wish to fly from Kathmandu, you will enjoy the spectacular views of the Himalayas, including Everest, Makalu, Kanchenjunga and the Tibetan valleys. You will be greeted at Gonggar Airport by our Tibetan guide. Transfer to Tsedang (2 hr). Check into the hotel. The remainder of the day can be spent relaxing and acclimatizing. Overnight at hotel
Day 02: Visit Changzu Monastery then drive to Samye Monastery: 130 Km
This day is begins with a visit to the palace of Yambulakhang which was built by the first Tibetan king Nyatri Tsenpo in the second century BC. Local folklore believes that the king was descended from heaven. In the afternoon you will visit Chedruk Temple to round off our visit to Tsedang, in the next you will drive 65 Kms to Samye Monastery (5050 m) which tops on hill. Overnight stay in a hotel  
Day 03:  Morning Sightseeing and afternoon drive to Lhasa (3650m): 90 Km
After breakfast visit Yongbulakhang Palace which was built by the first Tibetan king Nyatri Tsenpo in the second century BC. Tibet King's Tomb, afternoon drive to Lhasa, en-route visit the famous Mindrolin Monastery which covers a large area of over 100,000 square meters (approx. 119,599 square yards). This is one of the six most famous Tibetan Buddhist monasteries of the Nyingmapa Sect. The monastery was originally built in the 10th century and has been renovated several times. Overnight stay in a hotel
Day 04:  Sightseeing in Lhasa:
The journey begins with a visit to Sera Monastery. An experienced Tibetan tour guide also working as an interpreter escorts you to this preserved monastery of white-washed walls and golden roofs. Equally adventurous and exciting tempo builds up while touring Norbulingka, the summer palace of the Dalai Lama. Jokhang Temple is another important sacred site which unravels more deep seated mysteries of Tibetan Buddhism. Visit to Barkhor Market can be quite a change from other visits as we roam around the city savoring every tiny detail from stall hawkers coaxing their clients to purchase their goods to exhibition of Tibetan culture, custom and tradition. Eventually, the tour for the day concludes as you return to the comforts of your hotel.
Day 05:  Sightseeing in Lhasa
Like the previous day, you experience invaluable insights during your visits to Potala Palace and Drepung Monastery. This 17th century Potala Palace offers an breathtaking view of entire city and also has private quarters of the Dalai Lama, numerous grand state rooms and chapels. Ancient history has it that Drepung Monastery which was built in 14th century used to shelter around 10,000 monks but as now there has been quite a declination resulting in only few hundreds. Tibetans' respect and belief are immensely knotted with this monastery. Overnight stay in a hotel
Day 06: Drive to Gandan Monastery via Drayerpa Cave, Drigung Tel & Terdrom Hot spring (4400 m)
Breakfast in the hotel then drive to Mozugongar County via Drayerpa Cave, again visit the Gandan Monastery, After lunch in the afternoon drive to Drigung Tel Monastery & continuous drive to Terdrom hot-spring (75 Kms, off road) for overnight stay in Basic guesthouse.
Day 07:  Drive to Reting Monastery (4100m) 180 Km
After breakfast, drive to Damxung county via Reting Monastery (180 Kms, off road) Reting Monastery is the special temple for high Lamas like as Dalai lama`s teacher, again to Dangxung County (80 Km), southwest China's Tibet Autonomous Region, you can see the north Tibet Grass view. Overnight at local Guesthouse.
Day 08:  Drive to Namutso Lake (4700 m): 160 Km
Take your breakfast in the morning at guesthouse then drive to Namutso Lake enjoying the stunning landscape. Namutso is the highest lake in the world and is 4,718 meters above sea level. It is 72 kilometers long from east to west and 30 kilometers wide from south to north. It has an area of 1,940 square kilometers. Some 60 kilometers to the northwest of Damxung County seat, it is one of the three holy lakes in Tibet and receives high respects among the local people. On the Tibetan year of sheep, pilgrims from faraway come here to walk around the lake. It takes more than 10 days to circle the lake once. Afternoon walk around Lakeside area and this is one of the highest & most beautiful Lake in Tibet, overnight in Lakeside Guesthouse. 
Day 09:  Morning explore in Lakeside, then back to Lhasa via Yabachen Hot spring: 220 Km
Morning breakfast then visit the famous hot spring, and take shower if you are interested, across North Tibet Grass, Great Nianchentangula Snowing Mountain, lunch at Yangbachen small town, afternoon back to Lhasa city. Overnight at a comfortable hotel in Lhasa.
Day 10:  Drive to Gyantse via Yamtso Lake, visit Pekhor Monastery: 265 Km/5 hrs
Leave Lhasa on a 4WD along the Friendship Highway and cross the Khamba La 4794m from where you can see the stunning views across the waters of Yamdrok-tso Lake to the snowy summit of Nazin Kang SA 7252m. Continue westwards over another high pass the Karo La 5045m where you are treated to the spectacular sight of a huge glacier tumbling down to within a few hundred meters of the road. After passing through beautiful valleys and colorful Tibetan villages you will arrive in the town of Gyantse. Either same day evening or following day morning you will visit the famous Pekhor Monastery and you will stay overnight at hotel.
Day 11:  Drive to Shigatse (3900m), en route visit Shalu Monastery: 112 Km/ 2 hrs
Before leaving Gyantse you will have time to visit the Gyantse Dzong and Gyantse Kumbum. The Dzong is a fort dating from the 14th century from which there are amazing views of both Gyantse itself and the surrounding Nyang Chu Valley. The Kumbum is a large gold-domed stupa and its many small chapels house an impressive array of Tibetan Buddhist murals. You then continue on to Shigatse, a short drive of only 90kms, arriving in time for lunch. Shigatse is the second largest city in Tibet and after exploring the local market you will make a detailed visit to the Tashilhunpo Monastery. This monastery is one of the largest functioning monasteries in Tibet and there is much to explore within its high surrounding walls. Overnight at a comfortable hotel  
Day 12:  Drive to Rongbuk (5,050m), visit Everest Base Camp: 360 Km/ 6 hrs
After breakfast drive from Shigatse to Sakya, noon time arrive in Shegar, after lunch, away from Shegar, you will drive to the south crossing Pang La pass at 5150m. Along the drive you can bask in the splendor of majestic views of snow-capped peaks from Makalu to Shishapangma. After long driving we eventually reach Rongbuk at 5000m. You can then view spectacular sight of Mount Everest. You will have the opportunity to explore Everest Base Camp (5,250m) [no tour vehicles, apart from expeditions and trekking, are allowed beyond Rongbuk so you have to walk (16 kms round trip) or take local minibus to visit Base Camp]. The base camp itself is dry and barren, but the views of Everest more than compensate for this. It is a truly awe-inspiring place with the sheer north face of the highest mountain in the world towering above you. Overnight at a basic guest house.
Day 13:  Drive down to Zhangmu (2300m): 245 km/4-5 hrs
You will drive past Tingri crossing Lalung La pass at 5124m and Shung La pass at 5200m. Savor the enchanting views of the surrounding peaks of Shishapangma, Cho Oyu, Menlungtse and Gauri Shankar; you descend from the arid Tibetan Plateau to verdant Zhangmu on the Nepalese border. After driving for 181 km, you will find yourself amidst the lush and verdant vegetation of Zhangmu at 2300meters. Overnight at hotel in Zhangmu.
Day 14: Drive to Kathmandu (1350m): 123 km/4-5 hrs
After finishing the customs formalities you will cross the Friendship Bridge at the Nepal-Tibet border across Bhote Koshi River. Continue drive to Kathmandu. About 5 hours of drive through deep valleys takes you to Kathmandu. Overnight at hotel.
Services Includes
Tibet Travel Permit fee of Tibet
Guided tour as per program
All Monastery entrance fee
Hotel in Lhasa with breakfast
Best available guest houses en route with breakfast basis 
Transportation by Toyota Land cruiser 4500 or mini bus
Group visa fee for Tibet
Necessary drop and pick up by private vehicle
Services Excludes 
Lunch and dinner along the trip
Flight ticket (Kathmandu- Lhasa- kathmandu) and airport taxes
Emergency rescue evacuation cost
Other personal expenses tips, donation, laundry, call and bottle drinks
Photography charges
Any cost arising from Landslides, road blockage & additional transportation cost.
Nepal re-entry visa fee
Personal travel insurance