Kailash Manasarovar Tour Tibet | Kailash Manasarovar Overland Tour - 13 days
Kailash Manasarovar overland tour will lead you to one of the most revered holy sites on the planet. The Hindus, Buddhists, and Bon followers all believe that a walk around Mt. Kailash erases all the sins of your life. Mt. kailash is situated in the far western corner of Tibetan Plateau which is very remote part of Tibet, reachable after four days adventure and scenic drive crossing several passes and typical Tibetan villages.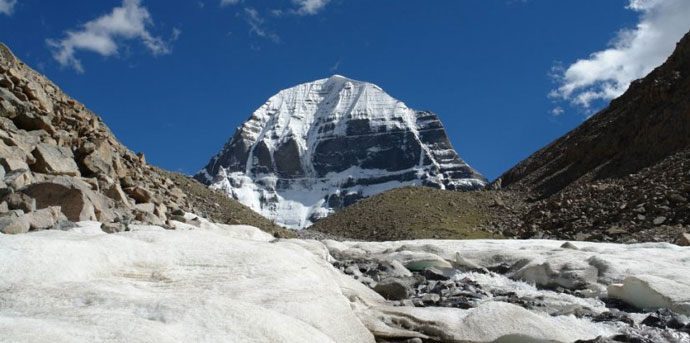 Kailash Manasarover Overland tour also takes you to Lake Mansarovar, another extremely beautiful turquoise lake close to Mt. Kailash. You can have an experience more about religion and culture as you walk with around this turquoise lake with both Hindus and Buddhists Pilgrims.
Trip Fact
Trip Duration: 13 days
Mode of Tour: Drive in & drive out until end the tour
Trip starts: Kathmandu drive in
Trip ends: Kathmandu- Tibet boarder
Group size: Minimum 2 & Maximum 20-22
Accommodation: Guest houses or tents option with bb or full board basis
Transportation: 4WD Land cruiser or mini buses with support truck
High lights of trip: Exploring stunning Mt. kailash and Lake Manasarovar, visiting monasteries, interesting trekking, explore main attraction of around and adventure overland journey with splendid views and beautiful cultural experience of high and dry plateau…
Kailash & Manasarover Overland tour – Outline itinerary
Day 01: Drive from Kathmandu to Nyalam 3300m
Day 02: Drive from Nyalam to Peiku Tso
Day 03: Drive from Peiku Tso to Zhongba
Day 04: Drive from Zhogba below the Mayum La
Day 05: Drive from Mayum La to Manasarovar 4560m
Day 06: Circle around Manasarovar and reach Tarchen
Day 07: Drive from Tarchen to Tarboche 4750m, start trek to Dira-puk
Day 08: Trek from Dira-Puk to Zutul-Puk 4790m
Day 09: Trek from Zutul – Puk to Darchen 4560m, on to Hor.
Day10:  Drive to Paryang[4750m
Day 11: Drive to Saga 4600m
Day 12: Drive to Nyalam 3300m
Day 13: Drive to Zhangmu cross border, drive to Kathmandu 1400m
Cost and other details please contact us
Kailash & Manasarover Overland tour – Detailed itinerary
Day 01: Drive to Zhangmu 2300m
Our adventure overland trip begins here with an early morning drive to the Tibetan border. You will experience some beautiful Nepalese countryside along the friendship Highway. Upon reaching the border we will complete the necessary paper work and continue the scenic drive to Zhangmu then again follow the road up to Nyalam. Overnight at guest house
Day 02: Drive to Peiku-Tso
Your final destination today is the large Peiku-tso Lake. On the way you cross two high passes and encounter much beautiful scenery. Overnight at guesthouse or camping
Day 03: Drive to Zhongba
Today is a longer day, but the surrounding Tibetan scenery makes it all worthwhile. Throughout the day we cross the Brahmaputra River on a ferry, pass through Saga, and finally end in the small town of Zhongba. Overnight at guest house or camping
Day 04: Drive to Below Mayun-La
On the 4th day you will encounter some of the best breathtaking scenery in your entire journey. After passing through Paryang you will cross several rivers before reach your camp. You will spend the night just below Mayun-La. Overnight at Local guesthouse or Camping
Day 05: Drive to Manasarovar 4060m
This day, you finally reach the holy site of Lake Manasarovar. Be well prepared for an awe-inspiring experience. Overnight at guesthouse or camping
Day 06: Jeep tour around Lake Manasarovar
Well, today will be an easy day driving with the jeeps around this beautiful lake, experience the magic of this holy site meet with local pilgrims and visit the beautiful Chiu Monastery. Mt. Kailash looms in the distance. After a short break at Chiu Gompa we will continue drive to Base Camp of Mt. Kailash, Tarchen. Overnight at local guesthouse or lodges
Day 07: Drive to Traboche 4750m, Start trek to Dira-Puk
After only a 35 km drive you will reach Tarboche. Tarboche marks the start of your religious 53 km trek around the Mt. Kailash. You will trek to Dirapuk today, through lush green meadows and babbling mountain streams compliment your walk through the Lha Chu Valley then trek through a narrow river canyon. Enticing waterfalls and steep cliffs surround you. The north face of Mt. Kailash finally appears into view as we reach Dira-puk, a 13th century monastery. Overnight camping or basic guesthouse
Day 08: Trek to Zutul-Puk 4790m
After trekking through the Drolma Chu Valley you will climb the prayer flag laden Drolma La pass. It is a relief to cruise downhill towards Zutul-puk, with a view of an alluring mountain lake in the distance. Thukpe Dzingbu Lake is known as the Lake of Compassion. You can also discover several ancient meditation caves! Overnight Camping or basic guesthouse
Day 09: Trek to Darchen 4560m, on to Hor
Today is your final day of the kora. Several stream and splendid gorges surround you. Ravishing views of Mt. Kailash are abundant on your walk today, meet your jeeps and drive to Hor the east side of Lake Mansarovar. Overnight at guesthouse or camping
Day 10: Drive to Paryang 4750m
You must leave early today for your drive back to Paryang. However, it is not a wasted day as some of the best scenery on our trip is seen in this section. Relax and enjoy the unparalleled beauty of this drive. Overnight at guesthouse
Day 11: Drive to Saga 4600m
Today is another driving day as we head towards Saga. Take in the sights of the small dusty towns along the way. Overnight at guesthouse
Day 12: Drive to Nyalam 3600m
Today you cross the Yarlung Tsangpo by ferry once more. You are given one last chance to soak in the beauty of Peiku-tso before arriving back at Nyalam. Overnight at guesthouse
Day 13 Drive to Kathmandu 1400m
Today you are descending down through a mossy gorge and brilliant cascading waterfalls. Cross the friendship bridge From Zhangmu saying good bye to your Tibetan crew and 5 hours scenic drive to Kathmandu where your trip will end.
Service Includes:
All transportation in Nepal and Tibet (4x4 Land cruisers)
Experienced support team / English speaking Tibetan guide
All accommodations and three meals a day in Tibet
All travel permits and Kailash national Park fees with Tibet visas
Transportation for luggage and staff in Tibet
Yaks for carrying group and personal gear during trek
All sleeping gear (tents, sleeping bags, camping mattress)
All entry fees for monasteries and temples

Service Excludes
Airline ticket to/from Kathmandu
Visa for Nepal,
Expenses of a personal nature such as beverages, bar bills, laundry, phone calls, bottled drinks, etc.
Helper/yaks/horse to support individual on the parikrama/ kora/trekking days.
Your Travel insurance