Tashi Delek & Welcome - We hope you enjoy our diverse and exotic adventure holidays!
A taste of the fantastic trips we offer in Tibet and the Himalayas: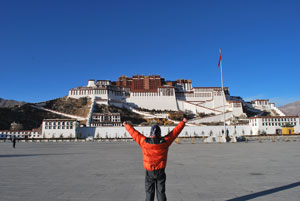 With an average elevation of over 4,000 meters, Tibet is considered to be the highest region in the world; often referred to as the "Roof of the World". Remote, beautiful, and sacred; this largely undiscovered land is illuminated by countless Buddhist shrines and is surrounded by the magnificent Himalayan mountains, including Mount Everest (north face) which is the highest point on the planet.
After centuries of virtual isolation from the rest of the world, Tibet has just begun to cautiously open up, with the first international travelers permitted to enter only 30 years ago. A visit to Tibet is a marvelous experience; an adventure that provides you with unforgettable memories for the rest of your life.
The major travel packages available in Tibet are:  Tibet Everest base camp tour, Kathmandu Lhasa Overland Budget tour, Tibet mountain bike tour, Beijing Lhasa EBC tour, Tibet EBC trek, Lhasa Kathmandu overland tour, Tibet Cultural tour,  Advanced base camp trek, Ganden Samye trek, Mt. Kailash tour and Tibet group tour by bus from Kathmandu.
We organize some of the most exciting excursions to Tibet. The first option is the spectacular hour and a half flight from Kathmandu to Lhasa. During the flight, you will view the sparkling snowy peaks of the high Himalayas, including a stunning aerial view of Mt. Everest itself, as well as other peaks towering over 8,000 meters high: Mt. Cho Oyu, Mt. Makalu, Mt. Lhotse, etc. After passing over the mountains, the scenery changes dramatically to the barren expanse of the Tibetan plateau, followed by the Yarlong Tsampo River, and then finally landing at Gonggar Airport 97 kms from Lhasa.
Another exciting option, just made available in 2006, is the new Qinghai Tibet Railway. The trip from Beijing or Changdu to Lhasa takes almost 49 hours, offering breathtaking views of nomadic pastures resting at altitudes of over 5,000 meters and brilliant blue sacred lakes with snow-capped mountains in the background.
The beautiful drive down the 900 kms, Wonderful Friendship Highway from Kathmandu to Lhasa is also a stunning excursion, going through dramatic high passes (including the Everest base camp), and offering an unsurpassable panorama of cultural and scenic diversity.
We offer a wide selection of itineraries designed to introduce the unique culture and history of Tibet as well as its exciting landscape in the most convenient and comfortable way possible. The itineraries listed here can be used as models to give you an idea of the range of possibilities, times, and costs associated with a trip to Tibet. We encourage you to vary these trips or discuss entirely new itineraries with us.
We invite you to visit the land rich in mountains, monks, mystery, and adventure. Experience the lifestyle of a true nomad and share the once in a lifetime memories with your friends. 
Look forward to hearing from you
With Warmest Regards
Mission Eco Trek Family
E-mail [email protected] / [email protected]
Website: www.tibetlhasatour.com  / www.Tibetnomad.com