Ganden Samye Trekking in Tibet - Lhasa Ganden Samye Trekking Tibet Guide
Ganden Samye trek – an amazing and adventure trip will move you through Tibetan wonderful history and culture. Along the way, you will indulge yourself to the true beauty which is intact Tibet. Ganden Samye trek will starts with 3 nights in the ancient city of Lhasa where you will explore main centers of attractions of the city ranging from The Potala Palace to bustling market streets. For further acclimatization, you will drive to Ganden and enjoy the glimpse of Gelugpa Monastery. The actual trek will lead you through one of the most beautiful and popular treks in all of Tibet. Along the way you will encounter two high passes and experience some astonishing and remote regions of Tibet. The terrain is difficult however you can easily enjoy the trip if properly acclimatized.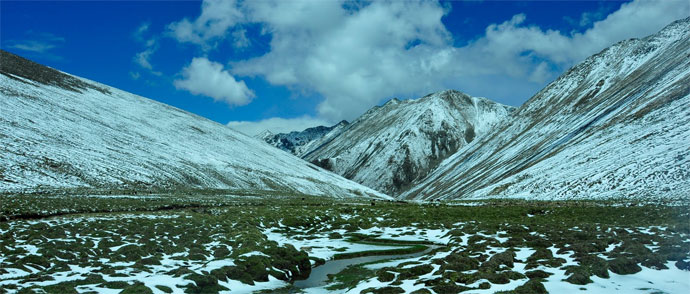 Ganden Samye trek is a comfortable but moderate trip so that AMS is common along the way, so it is better to stay hydrated and be careful while ascending the passes and large valleys. It is possible to do the trek at any time throughout the year. However, between May and October, the trip would be the best. Your final destination of Ganden Samye trek is the ancient Samye Monastery and its surrounding attractions. The last day of your trip will be enjoyed in visiting the Yarlun Valley, or valley of the tombs which is good source of information about the Tibetan people and its culture and traditions.
Ganden Samye Trek – Outline itinerary  
Day 01: Arrive in Lhasa by Air or train
Day 02: Sightseeing in Lhasa city
Day 03: Sightseeing in Lhasa city
Day 04: Free day in Lhasa
Day 05: Drive from Lhasa to Ganden
Day 06: Trek to Yama Do
Day 07: Trek to Tsotup Chu Valley
Day 08: Trek to Herder's Camp
Day 09: Trek to Wango
Day 10: Trek to Samye and drive to Tsetang
Day 11: Full day explore Yarlung Valley
Day 12: Drive to Gongkar Airport or train station for onward journey
Trip Cost: You can make this tour as a private trip with your family, friends and colleagues so please send us an email and let us know how many members are there in your group to do this trip and the category of accommodation you want to use in Lhasa and en route, and then we quote the best price as per your requirements.
Note: If you wish to join this trip in Kathmandu you have to arrive 2 days prior to trip departure dates (But you need to provide us copy of your passport at least 25 days before the trip departure). Or if you wish to start in Lhasa, you can arrive Lhasa on the date mentioned above or earlier.
Ganden Samye Trek – Details itinerary
Day 01: Arrival in Lhasa by train or air
Upon arrive at Gonggar airport or Lhasa Train Station then an easy one hour or half hour drive to the vibrant Lhasa the capital of Tibet. Check in to hotel and the rest of the day can be spent in relaxing and acclimatizing. Overnight at hotel.
Day 02: Sightseeing in Lhasa
We are pretty sure that you always dreamed of visiting the ancient Tibetan monasteries. Our experienced English speaking Tibetan guide will lead you to the renowned sights. First of all, you will visit the beautiful Sera Monastery. Many of the pictures you see of Tibet are of these buildings with their white washed walls and golden roofs. At present, several hundreds of monks dwell and study in this architecture. The afternoon will be enjoyed in visiting the Jokhang temple and Norbulingka.
The Norbunglinka is another praiseworthy piece of architecture and was once the summer palace of the Dalai Lama. Jokhang Temple will grant you one of your first sights of devout Tibetans, as hundreds visit this sacred shrine each day. The central market of Lhasa, the Barkor, encircles the Jokhang Temple. In these cobbled streets you can observe more Tibetan culture and even purchase some unique crafts. Overnight at hotel
Day 03: Further Exploration of Lhasa
In order to explore some of the ancient quarters of the Dalai Lama you will visit Potala Palace which will certainly be astonishment as this grand palace has been regarded to exist before the 17th century. To further acknowledge the history and culture, you will also visit Drepung Monastery which was once home to over 10,000 monks. The Drepung Monastery is still a beautiful sight to see and amazingly it was one of the few sights to escape the Cultural Revolution without widespread damage.
Day 04: Free day in Lhasa
On the 4th day, you will relax, fully acclimatize, and view more sights of Lhasa. Many of our visitors enjoy exploring Lhasa and rest in the various monasteries or simply enjoying a great meal at one of the many restaurants in Lhasa.
Day 05:  Drive to Ganden (4500m)
After going a short drive you will reach Ganden where you will spend the day acclimatizing further and exploring this wonderful area. Further, there are many attractions in this ancient town among them the highlight for the most is the first Gelugpa Monastery. Although this monastery has been destroyed over the years, there is still much to see. Many pilgrims wish to walk the kora around this holy place and one can enjoy the rituals along the way.
Day 06: Trek to Yama Do (5 hours)
The starting day of trekking begins at the highest point on the Ganden Kora. From here, you will pace towards a saddle trail with hypnotic views after which you traverse the west side of the ridge before passing through an ancient Hepu village. Later in the day move through Ani Pagong, a narrow bottleneck in the trail and former site of a nunnery. You will finish the day climbing up to Yama Do, where you will make camp to stay.
Day 07: Trek to Tsotup Chu Valley (4 to 5hours)
As the day breaks, you will leave the valley floor and launch your way through a steep gully rising from the stream bank. Finally, you will ascend up the Shug La and begin to descend through treacherous boulder fields. Later, you will cross Tsotup Chu, a large stream winding through the valley floor. Finally, you will set up our your in herder fields.
Day 08: Trek to Herder's Camp (5 hours)
Today, you will move through the Tsotup Chu down along its tributary and pace towards the Chitu La pass. After ascending this rocky pass, you will quickly climb down to reach a suitable place to camp in the fields surrounding the stream. To find our campsite, you will hover through quiet herder camps for nearly an hour by which another day of our trek will terminate.
Day 09: Trek to Wango (6 Hours)
Today, the trail gets easier as you move through scrub forests in the main valley. Splashing streams and lush forests entertain you as you walk. However, the desert is close by. The walk of next few hours is arguably the most fascinating part of your trek. More than 15 types of scrub trees, blooming rhododendrons, and vast meadow will wonder you every step of the way! After passing through this wondrous landscape you will trek pass the Changtang village. Less than an hour away participants can choose to make the one-hour hike to the Yamalung Hermitage which is an ancient and holy Buddhist meditation site however it is completely up to you whether you want to go or not. Towards evening, you will encounter the Samye valley along the splashing tributary stream and close to Samye; you will spend the night at comfortable campsite.
Day 10: Trek to Samye (2 Hours), Drive to Tsetang
In the morning, you will enjoy the widespread charming sceneries from Pisha. From where the entire Samye valley can be glanced at once. After reaching the summit of Dragmar you will view the numerous temples nearby. However, the Cultural Revolution deteriorated the temples. You will then prepare yourself for a breathtaking site as you meet up with the jeep trail and get even closer to Samye. Samye monastery, representing the Buddhist universe, is the prime focus of the trip for most of the visitors. There will be plenty of time to explore this mushrooming number of buildings. At the evening, you will drive in Jeeps and spend the night in Tibet's third largest city; Tsethang. You can take shower for making your sleep cosier.  
Day 11: Explore the Yarlung Valley
Yarlung valley, the majestic area is widely regarded to be the cradle of all of Tibetan civilization. The valley of the tombs is situated at the origin of the Tibetan people. You will get golden opportunity to explore this miraculous site where both the massive burial grounds and Yumbulakhang can be viewed. Yumbulakhang is a wonderful architectural site perched on a cliff and is one of the oldest buildings in all of Tibet. Then you will spend your night sleeping back in Tsethang at a hotel
Day 12: Drive to Gongkar and depart to Kathmandu or train journey to China.
The flight last only an hour while crossing the Himalayan range and you can catch up the glimpse of the striking snow-capped mountain surrounding you. This will certainly make you feel the amazing life changing journey in the land of religion and history!
Service includes
Tibet Travel permits
All Monastery entrance fee
Standard hotel in Lhasa with breakfast while in cities
Meals 3 times a day in trekking
Accommodation in two men tent and porters during the trekking period
Transportation by Toyota Land cruiser 4500 and supporting truck in case need
Group visa fee for Tibet
Oxygen incase needed
Service does not includes
Lunch and dinner except trekking period
Flight ticket (Kathmandu-Lhasa or Lhasa- Kathmandu) and airport taxes
Emergency rescue evacuation cost
Other personal expenses tips, donation, laundry, call and bottle drinks
Photography charges
Any cost arising from Landslides, road blockage hiring extra porters & additional transportation cost.
Nepal re-entry visa fee
Personal travel insurance