Tsurphu to Yangpachen Trekking Tibet - Tsurphu Yangpachen Trekking Itinerary
Tsurphu to Yangpachen trekking for those who are quite curious to learn about the Tibetan herders (drokpa) and their semi-nomadic lifestyle. The Tsurphu to Yangpachen trekking is an excellent choice. The residents have permanent winter homes but they still spend much of the year camping with their animals.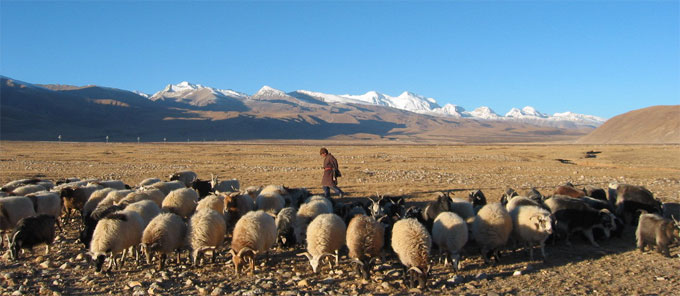 As you start your trip to Tsurphu Monastery, this rugged walk crosses several alpine valleys before emerging into the broad and windswept Yangpachen valley which is situated above the altitude extending from 4400m to even above 5300m at the Lasar-la. Combining alpine tundra and sweeping mountain panoramas with visit to monasteries and a nunnery, Tsurphu to Yangpachen trekking nicely provide the visitors to observe cultural and wilderness activities closely.
Tsurphu to Yangpachen Trekking – Outline itinerary
Day 01: Arrival at Lhasa by air or train
Day 02: Sightseeing in Lhasa
Day 03: Sightseeing in Lhasa
Day 04: Lhasa-Tsurphu Monastery.
Day 05: Tsurphu Monastery- Leten, trekking 4 hours, 12km.
Day 06: Leten-Bartso, trekking 5-6 hours, 15km.
Day 07: Bartso-Dorje Ling Nunnery, Trekking 4 hours, 16km.
Day 08: Dorje Ling Nunnery-Yangpachen Monastery/hot springs/Lhasa, trek 4 hrs,14km.
Day 09: Final departure
Trip Cost: You can make this tour as a private trip with your family, friends and colleagues so please send us an email and let us know how many members are there in your group to do this trip and the category of accommodation you want to use in Lhasa and en route, and then we quote the best price as per your requirements.
Tsurphu to Yangpachen Trekking - Detailed Itinerary:
Day 01: Arrival at Lhasa
As you arrive in Lhasa, you will be picked up by our guide and private car, then you will drive to lhasa and have a good rest for acclimatization and relax. Overnight at hotel.
Day 02 Sightseeing in Lhasa
As the day breaks, you will take an easy visit to Jokhang Temple which is the most revered shrine in all of Tibet and is constantly bustling with devoted worshippers. You will also have fun shopping in Barkor, the crowded central market of Lhasa. In the afternoon you will visit Sera Monastery, a fifteenth century sprawl of golden roofs and whitewashed walls which is well preserved monastery and is situated just a few miles North of Lhasa and is also the dwelling place of several hundred monks. Overnight at hotel.
Day 03 Sightseeing in Lhasa
The trip to the vital Potala Palace is highly necessary for one to have complete enjoyment of the visit. This palace is Lhasa's cardinal landmark and is a wonder of Eastern architecture which would be certainly your first site of this massive structure to be remembered for years to come. This palace is regarded to exist since the fifth or sixth century and was once home to the Dalai Lama. This truly wonderful day will terminate with a visit to the Drepung Monastery which is once the world's largest monastery, with 10,000 monks residing. Drepung monastery lies hidden in rocky ridges just beyond the city. To our great surprise, most of the buildings even exist as it is throughout hundreds of years. Overnight at hotel.
Day 04: Drive Lhasa to Tsurphu Monastery
Today you will have drive of nearly 2 hours from Lhasa to Tsurphu Monastery which is situated at the altitude up to 4480m. Today you will relax acclimatizing further and visiting this Tsurphu Monastery. Overnight at Tsurphu monastery.
Day 05 Tsurphu Monastery to Leten
The first day of your trekking is towards a green valley crisscrossed with mountain streams where you can enjoy the sight of various species of mountain goats. Several small nomadic communities camp here for the summer herding months, and you may have a stop into a yak-hair tent for a cup of salt butter tea or some fresh yak milk! Crest the ridge top four hours later, emerging onto a high plateau with a scattering of rock-enclosed huts, and look for a flat area for camping. From the very first day you can enjoy the breathtaking sceneries of the classic Tibetan beauty.
Day 06 Leten to Bartso
After crossing the first small pass, the Damchen Nyingtri, bear to the left at the cairns at the crest, and descend into a magical valley of lichen-coated boulders, meandering streams and expansive, powder-blue sky. By nearly three hours, you will cross the Lasar La and decline down to the Yangpachen valley, rich in wide open plateaus, spiky grass hummocks and tundra-like parched, cracked patches of earth, and pace towards Bartso. The enticing views of Brize (translated as female yak herder) and Tarze (horse keeper) are superb, and you will feel safe in the care of the local mountain god, Nyenchen Tanglha. You will camp near Bartso, a drokpa (nomad) village provided with five or six houses encircled by the juniper which is used for making fragrance all over the Tibetan society.
Day 07: Bartso to Borje Ling Nunnery
Today you will leave behind the village of Bartso and head towards a wide trail leading across the valley and over another ridge, from where you will be gifted with the hypnotic views of Nyenchen Tanghlha (7111m), the holiest mountain in central Tibet. You will then reach Tajung village, and then gently ascends rolling hills where young nomadic boys and girls picnic on the plateaus as they watch their yaks and sheep graze. The vistas are just praiseworthy .Towards mid-day, you should reach the small Djore Ling Ani Gompa (nunnery), near which we will set up camp. You may meet some of the friendly nuns in Tibet who will lead you into the gompa s tea-house and where you will be served with the plate with huge lump of yak meat (use the bowie knife provided to hack a piece off) before you begin your photo session.
Day 08: Dorje Ling Nunnery toYangpachen Monastery and Hot springs then Lhasa
Today you will walk for three or four hours to reach the ox-bow Nyango Chu River making its way through the grassy valley, and head for Yangpachen Gompa which is old Kagyupa monastery, with Tibetan mastiffs keeping guard, manifests part of the Trans-Himalaya range. Land cruiser will wait at monastery, and show the path up towards the hot springs at Yangbachen, and then you will return Lhasa again. Overnight at hotel
Day 09 Final departure to your next destination
Today is the last day of your visit and your guide and driver with the private vehicle will take you to the Lhasa Train Station or Lhasa Gongkhar Airport.
Service includes
Tibet Travel permits
All Monastery entrance fee
Standard hotel in Lhasa with breakfast while in cities
Meals 3 times a day in trekking
Accommodation in two men tent and porters during the trekking period
Transportation by Toyota Land cruiser 4500 and supporting truck in case need
Group visa fee for Tibet
Oxygen incase needed
Service does not includes
Lunch and dinner except trekking period
Flight ticket (Kathmandu-Lhasa or Lhasa- Kathmandu) and airport taxes
Emergency rescue evacuation cost
Other personal expenses tips, donation, laundry, call and bottle drinks
Photography charges
Any cost arising from Landslides, road blockage hiring extra porters & additional transportation cost.
Nepal re-entry visa fee
Personal travel insurance