Tibet Overland with EBC Tour | Tibet Overland Tour to Everest Base Camp
Tibet Overland with EBC Tour is a trip of short duration but gives you real tease of Tibet. This tour is being very popular in nowadays. The major attraction of this overland tour of the Everest base camp will be enjoyed traveling the Friendship Highway and home to some of the awe-inspiring scenery of this side of heaven. The first three nights of Tibet Overland with EBC tour will be spent in the old city of Lhasa for excellent sightseeing and proper acclimatization. The alluring Potala Palace, Sera and Drepung monasteries are some of the main sites in Lhasa.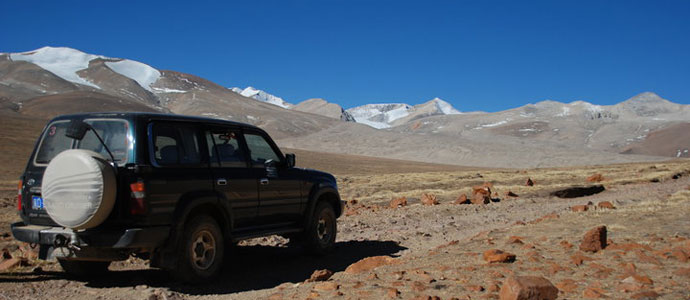 Along this tour with Everest base camp, the trip will pass through snowcapped mountain peaks, dramatic high passes, Cristal lakes, and numerous Tibetan settlements, and ancient monasteries, temples. You will have plenty of opportunities to explore this natural and cultural allure. In Gyantse and Shigatse you can immerse yourself in the Buddhist culture and traditions.
The highlights of Tibet overland with EBC tour will be your visit to the highest base camp of Everest. Of course, the sheer brilliance of this mountain is something which must be seen firsthand to be truly appreciated.
Trip Fact
Trip Duration: 7 Overland with EBC
Mode of Tour: Fly in and drive out
Trip starts: Lhasa fly in
Trip ends: Kathmandu- Tibet boarder
Group size: Minimum 2 & Maximum 15
Accommodation: Hotel and Guest houses stay BB Basis
Transportation: 4WD Land cruiser
High lights of trip: Visiting Potala Palace, guided sightseeing to explore main attraction of around and adventure overland drive with marvelous views and beautiful cultural experience of dry plateau with exploring stunning Everest Base Camp
Tibet overland with EBC Tour - Outline itinerary
Day 01: Arrive in Lhasa by Air or Train
Day 02: Lhasa Sightseeing
Day 03: Lhasa Sightseeing
Day 04: Lhasa to Gyantse (3950m) then Shigatse (3900m)
Day 05: Shigatse (3900m) to Tingri (4390m) then EBC (5200m)
Day 06: Drive back to Tingri to Zhangmu(2300m)
Day 07: Drive Zhngmu to Kodari then Kathmandu (1300m)
Trip Cost: If you wish to make this tour as a private trip with your family, friends and colleagues then please send us an email and let us know how many members are there in your group to do this trip and the category of accommodation you want to use in Lhasa and en route, and then we quote the best price as per your requirements.
Note: And/or if you wish to join this trip in Kathmandu you have to arrive 2 days prior to trip departure dates (But you need to provide us copy of your passport at least 25 days before the trip departure). Or if you wish to start in Lhasa, you can arrive Lhasa on the date mentioned above or earlier.
Tibet overland with EBC Tour - Detailed Itinerary
Day 01: Arrive in Lhasa by Air or Train
when you arrive at Gonggar airport or Lhasa Train Station, an easy one hour or half hour drive will lead you to Lhasa city, which is the capital city of Tibet. The rest of the day can be spent for relax and acclimatization. O/N at hotel
Day 02: Lhasa Sightseeing
After the Breakfast at hotel, you will take a lovely visit to Jokhang Temple. It is the most revered shrine through out the Tibet. Obviously, it is constantly bustling with religious worshippers. After the lunch, you will visit Sera Monastery which is located just a few miles North to Lhasa city. It is the home to several hundreds of monks. Then the trip drives back to Lhasa. O/N at hotel.
Day 03: Lhasa Sightseeing
The journey to Tibet will not be completed without exploring the great Potala Palace. It is Lhasa's prime attraction and is the truly wonder of eastern architecture. The first site of this enormous structure will be the glorious moment remembered for years to come. This palace was once the home to Dalai Lama. This enjoyful day will terminate with a visit to the Drepung - once the world's largest monastery, settlement of more than 5000 monks which is situated hidden in rocky ridges just several miles from the city. O/N at hotel.
Day 04: Lhasa to Gyantse (3950m) then Shigatse (3900m)
The trip starts after breakfast which is little bit challenging but fascinating. You will encounter two high passes over 5000meters Khamba La and Kharo La along with one tranquil Lake called Yamdrok Tso during drive which provide tempting views of the Tibetan Himalaya range. After you reach Gyantse, you will explore more amazing Tibetan culture as you see the Gyangtse Dzong and Kumbum. Then, the trip will continue another two hours easy drive to Xigatse. O/N at hotel.
Day 05: Shigatse (3900m) to Tingri (4390m) then EBC (5200m)
After breakfast you will visit Tashilumpu Monastery, one of the largest functioning monasteries in Tibet which lasted the then Cultural Revolution nearly unscathed. After the visit, you will drive further along the snow capped mountains to reach Everest base camp via historical city of Tingri. O/N at guest house in Rongbuk base camp.
Day 06: Drive back to Tingri to Zhangmu(2300m)
This morning is the highlight of the trip heading to incredible base camp of Mt. Everest. You will take a local transport to cover this 8 km distance to reach Everest Base camp, or you can even walk to EBC but it depends on your physical condition. The view of Everest from so close make the mountain seems even more impressive than before. Of course, it is a truly breathtaking experience to gaze up at the sheer North face of this highest mountain in the world. After exploring EBC you will return on the Friendship highway and continue your amazing journey down to a small border town called Zhangmu. O/N at hotel.
Day 07: Drive Zhngmu to Kodari then Kathmandu (1300m)
You will leave Zhangmu in the morning and move forward to the border of Nepal. The Friendship Bridge is situated at the Border of Tibet and Nepal and is only a few kilometers from Zhangmu. You may say good bye to your guide and staff then pace down to Nepal side where our Nepalese staff will meet you at the immigration Control in Kodari and assist with all the reentry formalities. The Kathmandu city, our final destination, is only five hours drive to south.
Services Includes
Tibet Travel Permit fee of Tibet
Guided tour as per program
All Monastery entrance fee
Hotel in Lhasa with breakfast
Best available guest houses en route with breakfast basis 
Transportation by Toyota Land cruiser 4500 or mini van
Group visa fee for Tibet
necessary drop and pick up by private vehicle
Services Excludes 
Lunch and dinner along the trip
Flight ticket (Kathmandu- Lhasa)
Emergency rescue evacuation cost
Other personal expenses tips, donation, laundry, call and bottle drinks
Photography charges
Any cost arising from Landslides, road blockage & additional transportation cost.
Nepal re-entry visa fee
Personal travel insurance