Lhasa EBC Kailash Manasarovar Tour – 15 Days
Tibet Lhasa tour is the best tour Operator in Kathmandu for Tibet tours offers a small group joining Lhasa Kailash Manasarovar tour via Everest base camp with guaranteed fixed departure dates in 2017, 2018, Cost and the number of people confirmed for joining on Lhasa EBC Kailash tour on mention dates with Lhasa EBC Kailash tour Itinerary details. The solo traveler can join Lhasa EBC Kailash tour on our group departure dates.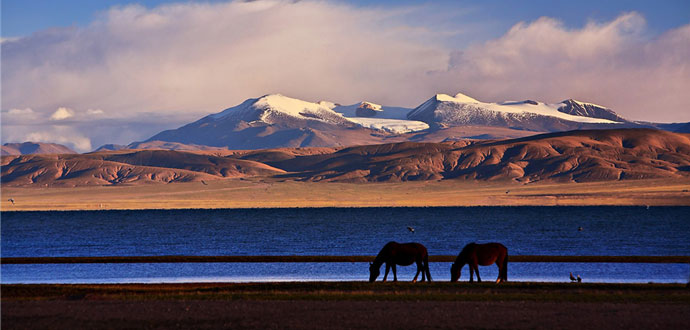 Mt. Kailash is recognized as the lofty mountain in the world, and the center of the world by Hinduism, Buddhism, Bon - native religion in Tibet and Jainism. Mt. Kailash shaped like a pyramid is the main peak of Gangdise Range with symmetrical sides. Historically, there used to have many Chinese and foreign monks preaching there. Thus, it became the center of worship for four sects a long time ago, including Buddhism, Hinduism, Jainism and Bon, which is also the Mount Olympus in the east, a fascinated place for tens of thousands pilgrims of china, India and Nepal.
Lhasa EBC Kailash Manasarovar Tour Itinerary
Day 01: Arrive in Lhasa(3650m)
Arrive in Lhasa either by flight or train. Tibetan guide will greet, receive you there and drive to your hotel. You may view the Yarlung Tsangpo River / Brahmaputra River (the Longest and largest river in Tibet) and Lhasa River on their way to Lhasa. Take a rest to acclimatize in high altitude after check in hotel. It also possible to walk around Potala Square, and get amazing photos of Potala Palace. Overnight in Lhasa.
Day 2: Lhasa Tour - Potala Palace, Johkang Temple, and Barkhor Street.
Breakfast, and sightseeing tour first visit the Potala Paalce is the winter palace of the Dalai Lama. Tibet Potala palace has 1000 chambers, the gilded burial stupas of former Dalai Lamas and meditation cave of the 33rd great king of Tibet. After lunch, tour to Jokhang temple built by the 33rd great kind of Tibet in 7th century to promote the Buddhist religion. Barkhor Street is the local Tibetan street around Jokhang temple; you can walk with pilgrims and locals, and shopping local Tibetan souvenirs there.
Day 3: Lhasa Tour - Drepung and Sera Monastery.
Breakfast and continue Lhasa tour to visit Drepung monastery, one of the great three" Gelug monasteries of Tibet built in 1416 by Jamyang choge, one of the Tsongkhapa's main disciples. Ganden palace used to be Dalai Lama's palace in the Drepung before he moved to the Potala palace. In the Afternoon, we visit Sera Monastery, one of the "great three" Gelugpa monasteries of Tibet built in 1419 by Jamchen Chojey, one of the Tsongkhapa's main disciples. The Monks debate at around 3 - 5 in the afternoon is the main attraction of Sera Monastery. Stay overnight in Lhasa
Day 4: Lhasa - Yamdrok Lake - Shigatse (10 hrs, 370km)
Breakfast and we drive through the green farmland of Nyangchu Valley, Yamdrok lakes, Karo-La Glacier and Gyantse. Yamdro-Tso Lake and Kumbum monastery in Gyantse are the attraction of the day driving. Yamdro-tso Lake is shaped like coiling scorpion with deep blue in color and Kumbum monastery has a 35m-high chorten (stupa) with its white layers trimmed with decorative stripes and its crown-like golden dome. After visiting Pelkor Choede, we continue drive to Shigatse which is the second biggest city of Lhasa. Overnight in Shigatse
Day 5: Shigatse - Snakya - Tingri (10hr, 290km)
Breakfast, visit TashiLhumpo monastery, the seat of Panchen Lama and drive to Tingri visiting Sakya monastery. One of the very famous monasteries in Tibet, and we also cross the highest pass called Gyatso La (5200m) while driving to Tingri, the entrance of Himalayan Nature Reserve. Overnight in Tingri.
Day 6: Tingri to Rongbuk Monastery and Everest Base Camp (3 hrs, 90km)
Breakfast and 2-3 hours drive to Rongpuk through new winding road in the mountains. On the way from Tingri to Everest Base Camp, you can enjoy the stunning mountain scenery; past the wild grassland, the torrent and soaring mountains. You can see the panorama of Himalaya range including the 4 mountains which are 8000m high and more to enjoy like Mt. Lhotse (8516m), Mt. Everest (8848m), Mt. Qowowuyag (8201m) and Mt Makalu (8463m), and even majestic view of golden summit of Mt. Everest at sunset. Stay overnight in Rongbuk Guest House or local Tibetan Tent.
Day 7: Rongphu Monastery - Everest Base Camp - Saga (8/9hrs, 460km)
Enjoy the sunrise view on the top of Mount Everest and the giant pyramid view of Mount Everest in front of you at Rongbuk monastery, breakfast and continue drive to Saga via Peiku Tso Lake (4600m). Overnight at local guesthouse of Saga
Day 8: Saga to Lake Manasarovar to Darchen (9/10hrs, 550km)
Breakfast and drive to Darchen via Drongpa and Manasarovar Lake is the holy lake of Tibetan and Hinduism. You can relax around the lake shore and experience the natural beauty of the lake. In late afternoon, we will reach Darchen, a small town at the foot of Mt. Kailash. Tour guide will assist tourists to arrange trekking yaks and porters and doing some preparation for your following 3 days trekking around Mt. Kailash. Overnight at local guesthouse in Darchen town
Day 9: Trek Day 1 - Darchen to Drirapuk (6.5 hrs, 11km)
Drive 8km by an environment-friendly bus (40minutes) to Sarshung, where porters are waiting for their clients, and we trek to Drirapuk (4920m). Stay overnight at the tent guesthouse of monastery.
Day 10: Trek Day 2 - Drirapuk to Zuthulpuk (22km, 12 hours)
Breakfast and trek to Zhuthulpuk. This is the hardest and most tough trek crosses the Dolma-La pass (5630m) lying 6.4km ahead but 762m above Drirapuk. After taking a rest at the top of Dolma-La pass, you will descend staircase bringing you to Lhachu valley floor, taking about one hour from the pass, and the continue trek to Zuthulpuk. Stay overnight at the tent guesthouse of monastery.
Day 11: Trek Day 3 - Zuthulpuk to Darchen (11km, 7hours)
Today, we will go through Milarepa's cave, where the temple and shrines have been built around. Then we walk back to Darchen is easy and the exit from the valley can be reached within three hours. At the ending point of the valley, the driver will come to pick you up and take you back to Darchen. Stay overnight at the local guesthouse at Tarchen.
Day 12: Darchen to Saga (530Km, 14 hours)
Drive back along the incoming road to Saga.
Day 13: Saga to Shigatse

Day 14: Shigatse to Lhasa

Day 15: Lhasa Airport or Train Station.
Breakfast and Tibetan tour guide will transfer you to the airport or train station and help you get on board. Say good bye to Tibet Himalayas and Lhasa.
Cost Included
Airport pick up and departure transfer
Tibet travel permit and all other necessary permits to Tibet
All entrance ticket fees for all tourist sites listed in the itinerary
English-speaking Tibetan local tour guide shared in your group
Comfortable, clean and safe vehicle with reliable Tibetan local driver; vehicle ranging from 7 seats Van to 22 seats tourist bus depending on the group size
3 star hotels in Lhasa, Shigatse and Tingri, sharing twin room, with breakfast in hotel restaurant Local Guest houses at Darchen and Saga, dormitories, 3-5 pax sharing.
Local Guest Tents at the roadside of Mt. Kailash trekking path for 2 nights, dormitories, 3-5 pax sharing if you travel individually, you will need to share one room with another tourist; while if you prefer to stay in one room by yourself, you will have to pay the single room supplement.
Tourist accident/casualty insurance
First aid kit
Cost Not Included: 
Flight or Train ticket
Meals throughout the trip, it costs about USD 3-15 per person for one meal in Tibet.
Tips for tour guide and driver
Personal expenses, like laundry, phone call, snacks, soft drinks (please do the best to avoid the alcoholic beverages during your Tibet trip), optional tour activities, etc.
Tibet China group paper visa.
Yaks and Porters for carrying bags during trekking at clients' request.