Everest Base Camp Trek Tibet | Everest Base Camp, EBC Trekking Guide
Tibet Everest base camp trek is a model package for those who have dreamed of standing below the Mount Everest and staring up at the world's largest mountain towering above you. This is the great opportunity to live your dream and truly experience the magic of Mt. Everest. You will take the most difficult, yet rewarding route to reach Rongbuk base camp. Distinct views of Everest can be seen clearly from the Rongbuk base camp along with the view of high ridge to the village of Zommug.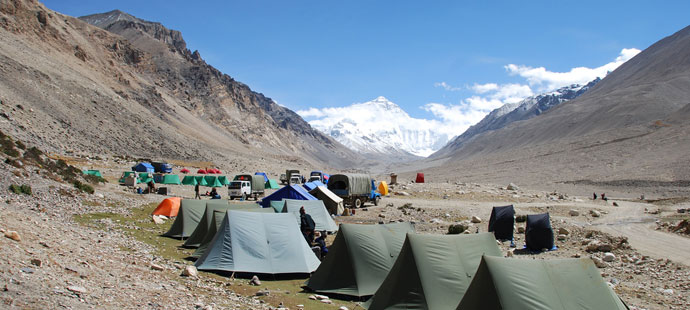 Tibet Everest base camp trek will terminate with many fascinating sceneries in the ancient town of Lhasa. This marvelous city is generally regarded as the centre town of Tibet since it is quite rich in its own history, culture, and glimpse. The legendary Potala Palace dominates the skyline with its powerful and ancient architecture. The uncountable number of monasteries and temples of the city such as the great Jokhang Temple and Drepung allow you to experience the real Tibetan Buddhism. The trip to these ancient monasteries and temples will provide you with a sense of wonder for years to come. You will allow yourself to relax in these extraordinary towns and immerse yourself in the rich Buddhist culture. Along the way to Lhasa you will also experience Buddhist culture in the awe-inspiring towns of Shigatse and Gyantse.
Tibet Everest Base Camp Trek – Outline itinerary
Day 01: Kathmandu – Nyalam - this is first city of Tibet.
Day 02: Rest day at Nyalam for acclimatization
Day 03: Drive to Tingri
Day 04: Trek to Lung Thang
Day 05: Trek to Lamna La
Day 06: Trek to Zommug
Day 07: Trek to Rongbuk
Day 08: Exploration at Rongbuk Glacier
Day 09: Drive to Lhatse
Day 10: Drive to Shigatse
Day 11: Sightseeing & drive to Gyantse
Day 12: Sightseeing & drive to Lhasa
Day 13: Sightseeing in Lhasa
Day 14: Sightseeing in Lhasa
Day 15: Fly to Kathmandu or train journey to mainland China.
Trip Cost: You can make this tour as a private trip with your family, friends and colleagues so please send us an email and let us know how many members are there in your group to do this trip and the category of accommodation you want to use in Lhasa and en route, and then we quote the best price as per your requirements.
Tibet Everest Base Camp Trek – Detailed itinerary
Day 01: Drive to the border, Cross border and drive to Nyalam
The very first day, you will depart from Kathmandu and begin your drive with a short trip through alluring Nepalese countryside. You will soon reach the border and complete all the necessary paper work. When this is finished you will ascend a string of steep switchbacks on your way to Nyalam. Beautiful cascading waterfalls surround us along the way. Overnight at guest house.
Day 02: Rest day at Nyalam for acclimatization
Today is a day for relaxing, enjoying Nyalam and properly acclimatizing before you move on. You can also visit the small temple called Milaripa Cave nearby this small town.
Day 03: Drive to Tingri
The 3rd day is another exciting day that commences with drive as you view the sharp contrast of lush lower hills to the barren landscape of the Tibetan Plateau. Along the way you will cross Lalung La pass, from where Everest and much of the Himalayan range are first glanced with most excitement. Tonight you will stay in the guest house at Tingri.
Day 04: Trek to Lungthang - 4510m
The real trekking adventure starts today as you move through the Tingri plain. You can visit a small gompa in Chholun. At night you will spend in a comfortable campsite in Lunthang which is a beautiful region and home only to barley harvesters and herders.
Day 05: Trek to Lamna La - 5150 m
As you ascend up the mountains, the true challenging trekking really starts. After walking steep uphill, you will reach the top of Lamna La. Then the camp will be made right near the top.
Day 06: Trek to Zommug - 4790 m
You will descend steeply into lush vegetation early morning where you will encounter only yak herders and their families. Camp will be set up in the small village of Zommug from where the sunset can be easily glanced.
Day 07: Trek to Rongbuk
Today is the last day of trekking and you will move towards your end destination of Rongbuk Everest Base Camp. Along the way you can also visit the Dza Rongbuk monastery and gompas which are truly ancient sites of historical importances. Finally, Night camping at Everest Base Camp.
Day 08: Exploration Rongbuk Glacier
You will spend enjoying the barren yet breathtaking surroundings of the Everest Base Camp. In fact, it is a life changing experience to take glimpse of the highest mountain.
Day 09: Drive to Shegar
After leaving the charming beauty of Everest, you leave for Shagar on drive of a short distance. Along the way you cross the Pang La pass viewing of the white Himalayas. Overnight at guest house 
Day 10: Drive to Xigatse
Today will be spent along the Friendship Highway as you cross the highest pass of your journey, Gyatmso La, and head through Lhatse then continue on with a short drive to Shigatse, the second largest city in Tibet. Overnight at hotel
Day 11: Sightseeing and drive to Gyantse
You will have a full morning of exploring the local markets and Tashilungpo Monastery. It is very intriguing to see how ancient Tibetan culture compares to the modern day culture you will experience. There are endless amounts of sights, both modern and ancient, to see around this city. A short drive will take you to the city of Gyantse. You will get chance of enjoying and learning about more fascinating Tibetan culture as you see the Gyantse Dzong and Kumbum. Wide view of the valley can be seen from the ancient Dzong fort. Even if you are no art connoisseur you will be amazed by the ancient murals and architecture existing in Kumbum which in fact seems more than stupa as it is surrounded by numerous Tibetan murals and small chapel houses. Overnight at hotel
Day 12: Drive to Lhasa
In the morning, you will leave Lhasa and get through Land cruisers along the Friendship highway. Numerous passes, such as Khambo La and Kharo La, are the enticing views of the Himalayan range. A colossal glacier rises nearly straight up from the road as you pass Kharo La. The drive will not appear to be boring as you pass through many more beautiful Tibetan valleys and quiet villages along the way. Overnight at hotel
Day 13: Sightseeing in Lhasa
In the morning, you will visit to Jokhang Temple, the most revered shrine in all of Tibet and is constantly bustling with devoted worshippers. You will do shopping in Barkor, the crowded central market of Lhasa. In the afternoon you will visit Sera Monastery, a fifteenth century sprawl of golden roofs and whitewashed walls. It is well preserved monastery and is located just a few miles North of Lhasa. And is dwelling place to several hundred monks. The debating activities are performed in regular basis at 3-4 pm so, it is better to inform your guide to meet these events. Overnight at hotel in lhasa
Day 14: Sightseeing in Lhasa
In order to explore some of the ancient quarters of the Dalai Lama you will visit Potala Palace which will certainly be astonishment as this grand palace has been regarded to exist before the 17th century. To further acknowledge the history and culture, you will also visit Drepung Monastery which was once home to over 10,000 monks. The Drepung Monastery is still a beautiful sight to see and amazingly it was one of the few sights to escape the Cultural Revolution without widespread damage. Overnight at hotel
Day 15 - Fly back to Kathmandu
Today, you will fly back to Kathmandu. However, the memories of those sight scenes will last for a lifetime.

Service includes
Tibet Travel permits
All Monastery entrance fee
Standard hotel in Lhasa with breakfast while in cities
Meals 3 times a day in trekking
Accommodation in two men tent and porters during the trekking period
Transportation by Toyota Land cruiser 4500 and supporting truck in case need
Group visa fee for Tibet
Oxygen incase needed
Service does not includes
Lunch and dinner except trekking period
Flight ticket (Kathmandu-Lhasa or Lhasa- Kathmandu) and airport taxes
Emergency rescue evacuation cost
Other personal expenses tips, donation, laundry, call and bottle drinks
Photography charges
Any cost arising from Landslides, road blockage hiring extra porters & additional transportation cost.
Nepal re-entry visa fee
Personal travel insurance