Lhasa EBC Yarlung Valley Tour Tibet - Lhasa EBC Yarlung Valley Tour Guide
The famous Lhasa EBC Yarlung valley tour is for those who want to explore the base camp of Everest. There you can experience a unique and vibrant culture and tradition of Tibet with legendary monasteries and valleys.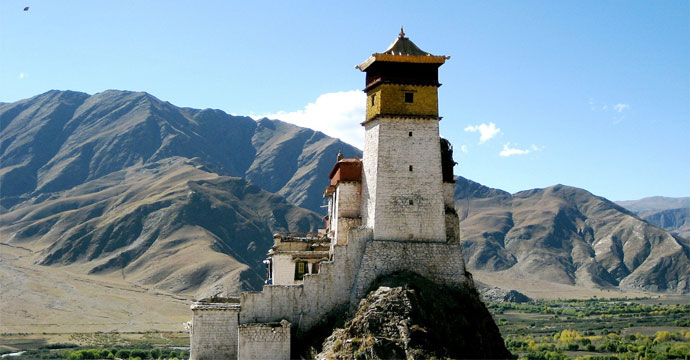 There will be comfortable jeep, van or bus depending on group size for the Lhasa EBC Yarlung valley tour. There will be friendly and knowledgeable guide who leads you for the trip. There are several stops along the way in the historical cities and challenging high passes. Lhasa EBC Yarlung valley tour allows you to relax in these amazing locations and immerse yourself in the rich Buddhist culture. You will enjoy the amazing travel in this trip.
Trip Fact
Trip Duration: 09 days Lhasa EBC Yarlung valley tour
Mode of Tour: Fly in and fly out
Trip starts: Lhasa fly in
Trip ends: Kathmandu fly out
Group size: Minimum 2 & Maximum 10
Accommodation: Hotel and Guest houses stay BB Basis
Transportation: 4WD Land cruiser or mini van
High lights of trip: Visiting Potala Palace, guided sightseeing to explore main attraction of around, exploring stunning Everest Base Camp and adventure overland journey with marvelous views and beautiful cultural experience of dry plateau…
Lhasa EBC Yarlung Valley Tour – Outline Itinerary
Day 01: Arrive at Lhasa by air or train, rest.
Day 02: Lhasa sightseeing.
Day 03: Lhasa sightseeing.
Day 04: Lhasa to Gyantse to Shigatse.
Day 05: Shigatse to Everest base camp.
Day 06: Everest base camp to Shigatse.
Day 07: Shigatse to Tesdang.
Day 08: Visit Sayme Monastery (Yarlung Valley)
Day 09: Final departure.
Trip Cost: If you wish to make this tour as a private trip with your family, friends and colleagues then please send us an email and let us know how many members are there in your group to do this trip and the category of accommodation you want to use in Lhasa and en route, and then we quote the best price as per your requirements.
Note: And/or if you wish to join this trip in Kathmandu you have to arrive 2 days prior to trip departure dates (But you need to provide us copy of your passport at least 25 days before the trip departure). Or if you wish to start in Lhasa, you can arrive Lhasa on the date mentioned above or earlier.
Lhasa EBC Yarlung Valley Tour – Detailed Itinerary
Day 01:  Arrival in Lhasa by Air or Train;
After your arrival at Gonggar airport or Lhasa Train Station, an easy one hour or half hour drive will take you to Lhasa city, the capital of Tibet. The rest of the day can be spent relaxing and acclimatizing. O/N at hotel
Day 02: Lhasa sightseeing
After breakfast in the morning, The trip heads an easy visit to Jokhang Temple. The temple is the most respected shrine in all of Tibet. It is constantly bustling with devout worshippers. After the lunch, the trip visits Sera Monastery which is located just a few miles North of Lhasa city. It is home to several hundred monks. The trip backs to Lhasa for overnight stay at hotel.
Day 03: Lhasa sightseeing
Your journey to Tibet would not be complete without exploring the great Potala Palace. This palace is Lhasa's prime attraction and is a truly wonder of eastern architecture. Your first site of this enormous structure will be a glorious moment remembered for years to come. This palace was once home to the Dalai Lama. This really amazing day will end up with a visit to the Drepung - once the world's largest monastery, housing more than 5000 monks which situated hidden in rocky ridges just several miles beyond the city. Overnight at hotel.
Day 04: Lhasa to Gyangtse then to Shigatse
After breakfast the trip begins which is little bit challenging but fascinating. While driving you will cross two high passes over 5000meters Khamba La and Kharo La plus. There is a beautiful tranquil Lake called Yamdrok Tso that provides amazing views of the Tibetan Himalaya range. After reaching Gyantse, you will be given the opportunity to explore more an amazing Tibetan culture as you see the Gyangtse Dzong and Kumbum. Then after, the trip will continue another two hours easy drive to Xigatse.
O/N at hotel.
Day 05:  Shigatse to Mt. Everest base camp
After breakfast, you will start exploring the Thashilungbu Monastery. It is one of the largest functioning monasteries in Tibet. It was able to last through the Cultural Revolution nearly unscathed. Then the four wheel drive vehicles will take you south towards the main Himalayan range while passing over Pang La. The panorama from the top of Pang La is really terrific. In the afternoon, the trip will descend into the Rongbuk valley from where you will have a first glimpse of awe-inspiring Mt. Everest.
O/N at guest house.
Day 06: Mt. Everest Base Camp & back to Shigatse
Today is an incredible day for you since the trip is heading to Everest Base Camp.  There will be either walking or riding a horse about 8 km distance to reach Everest Base Camp. The views of Mt. Everest from so close make the mountain seem even more impressive than before. Of course, it is a truly amazing experience to stare up at the sheer North face of this highest mountain in the world. After lunch, drive back to Shigatse.
O/N at hotel.
Day 07: Drive Shigatse to Tsethang
Today morning you will take a slightly different route to Tsethang. So, sit back and enjoy another full day of beautiful mountains under an endless Himalayan sky.
O/N at guest house.
Day 08: Visit Sayme Monastery (Yarlung Valley)
After breakfast in the morning, the trip crosses the widest part of Yarlung Zangpo River. You will visit the first Monastery in Tibet Samye Monastery. It is two hours on a local boat just to cross the River and another half an hour by local tractor or truck to reach Samye valley. You could have a birds eye view down from the Yungbulakang Palace, an amazing architectural site perched on a cliff give you most wonders of how ancient Tibetan People live in such a peaceful wide open valley. A visit to Tibetan kings' tombs, the massive burial grounds and unique antique looking Tanddruk Monastery give you a dream of its passed glory. Of course, it is one of the oldest buildings in all of Tibet. Then back to Tsethang for overnight stay.
Day 09: Final departure to your next destination.
Services Includes
Tibet Travel Permit fee of Tibet
Guided tour as per program
All Monastery entrance fee
Hotel in Lhasa with breakfast
Best available guest houses en route with breakfast basis 
Transportation by Toyota Land cruiser 4500 or mini bus
Group visa fee for Tibet
Necessary drop and pick up by private vehicle
Services Excludes 
Lunch and dinner along the trip
Flight ticket (Kathmandu- Lhasa- kathmandu) and airport taxes
Emergency rescue evacuation cost
Other personal expenses tips, donation, laundry, call and bottle drinks
Photography charges
Any cost arising from Landslides, road blockage & additional transportation cost.
Nepal re-entry visa fee
Personal travel insurance