Lhasa classical tour in Tibet - Lhasa Tour Itinerary, Lhasa Tibet Tour Guide
Lhasa classical tour will sanction you the enjoyable memories of the historical and ancient city of Lhasa. Lhasa, the capital city of Tibet is considered as the heart of Tibet and is filled with distinct history, culture, and tradition. The legendary Potala Palace dominates the skyline with its powerful and ancient architecture. The uncountable number of monasteries and temples of the city such as the great Jokhang Temple and Drepung allow the visitors to experience the real Tibetan Buddhism in this Lhasa classical tour. The trip to these ancient monasteries and temples will provide you with a sense of wonder for years to come!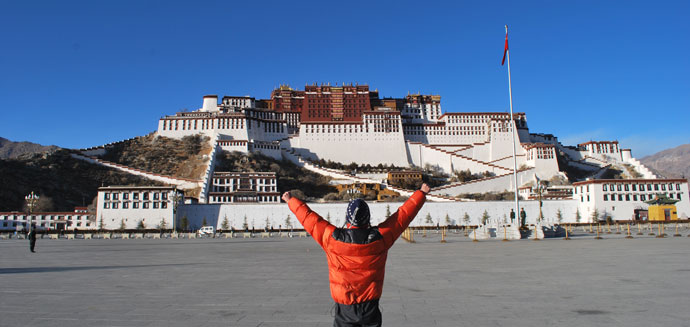 Lhasa classical tour is a comfortable tour. The neat and clean hotel accommodations will be provided in this tour which is centrally located and conveniently close to nearly all the major attractions in Lhasa. Although Lhasa is not a huge city, it is a small and bustling city where you really hard to get bored since there are so much to over joy the sceneries. This would be the memorable outing for anybody who visits. 
Trip Fact
Trip Duration: 04 days Lhasa classical tours
Mode of Tour: Fly in Lhasa & Fly out
Trip starts: Lhasa fly in
Trip ends: Kathmandu fly out
Group size: Minimum 2 & Maximum 15
Accommodation: Neat and clean hotels with bed and breakfast based
Transportation: 4WD Land cruiser or mini van
High lights of trip: Exploring stunning Potala Palace, guided sightseeing to explore main attraction of around and marvelous views of Tibetan mountains with beautiful cultural experience of dry plateau…
Lhasa classical tour - Outline Itinerary
Day 1: Arrival in Lhasa by train or air
Day 02: Lhasa Sightseeing
Day 03: Lhasa Sightseeing
Day 4:  Fly to Kathmandu or train or air to mainland China
Trip Cost: If you wish to make this tour as a private trip with your family, friends and colleagues then please send us an email and let us know how many members are there in your group to do this trip and the category of accommodation you want to use in Lhasa and en route, and then we quote the best price as per your requirements.
Note: And/or if you wish to join this trip in Kathmandu you have to arrive 2 days prior to trip departure dates (But you need to provide us copy of your passport at least 25 days before the trip departure). Or if you wish to start in Lhasa, you can arrive Lhasa on the date mentioned above or earlier.
Lhasa classical tour Detailed Itinerary
Day 1: Arrival in Lhasa by train or air
Upon your arrival at Gonggar airport or Lhasa Train Station, an easy one hour or half hour drive will take you to Lhasa city, the capital of Tibet. The remainder of the day can be spent relaxing and acclimatizing. Overnight at hotel
Day 02: Lhasa Sightseeing
After the Breakfast at hotel, you will take a lovely visit to Jokhang Temple. It is the most revered shrine through out the Tibet. Obviously, it is constantly bustling with religious worshippers. After the lunch, you will visit Sera Monastery which is located just a few miles North to Lhasa city. It is the home to several hundreds of monks. Then the trip drives back to Lhasa. O/N at hotel.
Day 03: Lhasa Sightseeing
The journey to Tibet will not be completed without exploring the great Potala Palace. It is Lhasa's prime attraction and is the truly wonder of eastern architecture. The first site of this enormous structure will be the glorious moment remembered for years to come. This palace was once the home to Dalai Lama. This enjoyful day will terminate with a visit to the Drepung - once the world's largest monastery, settlement of more than 5000 monks which is situated hidden in rocky ridges just several miles from the city. O/N at hotel.
Day 4:  Fly to Kathmandu or train or air to mainland China
As usual after breakfast at hotel, your guide and driver will drop you to Train Station or Airport for your next destination, your journey in Tibet terminates.
Services Includes
Tibet Travel Permit fee of Tibet
Guided tour as per program
All Monastery entrance fee
Hotel in Lhasa with breakfast
Transportation by Toyota Land cruiser 4500
Group visa fee for Tibet
Necessary drop and pick up by private vehicle
Services Excludes 
Lunch and dinner along the trip
Flight ticket (Kathmandu- Lhasa- kathmandu) and airport taxes
Emergency rescue evacuation cost
Other personal expenses tips, donation, laundry, call and bottle drinks
Photography charges
Nepal re-entry visa fee
Personal travel insurance